'Look At Me': Sexual Assault Survivors Confront Jeff Flake In Hearbreaking Video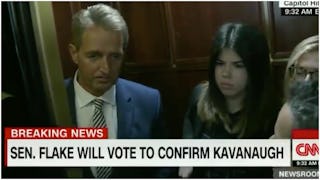 Image via CNN/Twitter
Video of sexual assault survivors confronting Jeff Flake is gut-wrenching
On Friday, Jeff Flake, one of the key Republican swing votes on the Senate Judiciary Committee, announced that he would vote in favor of Brett Kavanaugh's confirmation. After he made his announcement, sexual assault survivors gathered together and confronted him in person. The scene was raw, intensely emotional, and completely heartbreaking.
Just as Flake boarded the elevator, a group of women surrounded him and tried to explain just how unjust, painful, and troubling his vote for Kavanaugh is.
"I recognized in Dr. Ford's story that she's telling the truth," one woman said. "What you are doing is allowing someone who actually violated a woman to sit on the Supreme Court."
Another woman told Flake that she was a sexual assault survivor and knows exactly what it feels like to have a traumatic experience ignored.
"You're telling all women that they don't matter, that they should just stay quiet because if they tell you what happened to them, you're going to ignore them," she said. "That's what happened to me, and that's what you're telling all women in America — that they don't matter. They should just keep it to themselves because if they have told the truth, you're just going to help that man to power anyway."
Flake stood in the elevator and didn't say anything except "thank you" to one of the women confronting him. "Saying thank you is not an answer," she responded. "This is about the future of our country."
At one point, someone approached her and tried to suggest she speak to a staffer instead. "No, I want to talk to [Flake]," she said firmly. "Tell me, I'm standing right here in front of you, do you think he's telling the truth to the country?" Still, Flake said nothing.
In another incredibly powerful, gut-wrenching moment, one of the sexual assault survivors told Flake: "Don't look away from me. Look at me and tell me that it doesn't matter what happened to me, that you will let people like that go into the highest court of the land."
Those painful moments reverberated across the internet. People voiced their support for the women and reiterated that Flake had just made an awful, hugely damaging mistake.
Meanwhile, the Senate Judiciary Committee came together to cast their votes this afternoon. Just outside the hearing, protestors gathered in the hallway and continued to hope their voices would be heard. "We will not go back. We won't be silent," they chanted. "We believe Christine."
This article was originally published on