If You're Unclear About What Harassment Is, These Cringeworthy Videos Will Help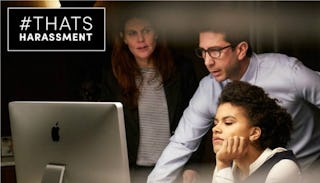 Image via YouTube.
Five videos show real-life examples of sexual harassment
In a series of videos that are masterfully edited and feature well-known actors, David Schwimmer is fighting sexual harassment by displaying everyday examples of it. The project, titled #ThatsHarassment, includes six short films that are cringeworthy and, sadly, all too common for most women.
Schwimmer, best known for his role as Ross on Friends, is an actor, director, and producer, but he's also a dad to 6-year-old Cleo. The women in his life inspired his creative process for the video series. "I grew up with stories of sexual harassment from my mom. Every woman in my family, in my life, has been harassed, except my daughter, thank god, who's only 6," the actor told Cosmopolitan. "But my mom was one of four women in a class of 400 lawyers when she was going to law school. And then she was a young woman lawyer in California, in the '70s and the '80s and the '90s. Countless stories of harassment."
While Schwimmer enlisted the help of some Hollywood notables including Cynthia Nixon, Emmy Rossum, and Cristela Alonzo, the original idea was brought to him by long-time friend — Israeli-American director Sigal Avin. After being sexually harassed herself, Avin wrote and directed five short films centered on the topic that she released in Israel last year.
This year, Avin and Schwimmer adapted four of her original short videos and added two for the American series. "I realized that I really wanted to see what sexual harassment was instead of hearing about it and reading about it all the time," Avin said. "There was nothing on it, everything was much more violent, or unreal, but there was nothing that showed the gray area of sexual harassment."
The short films definitely captured the gray area that women can attest exists due to their experiences with it. "The Coworker" opens up to a scene of a man talking about his female coworker's sex appeal while she laughs uncomfortably. I barely made it through a third of the video because multiple memories flooded my mind of similar situations. It's easy to push those encounters aside when they happen so often.
"When you've been objectified your entire life and become accustomed to being a second-class citizen in many, many ways — constantly told that you aren't worth the same as men, basically, and that your body comes first, or what you look like comes first — it makes a lot more sense to me that a lot of women don't even recognize when they're being harassed," Schwimmer said. "Because you spend your whole life not being treated with the kind of respect that men are automatically given."
Each video features a man – the Boss, the Actor, the Doctor, the Coworker, the Photographer, and the Politician – who subtly sexually harasses a woman in his life. Schwimmer said the purpose of the films is to inspire people to have the courage to speak out about sexual harassment when they're a victim of it or a witness to it.
"The reality [is that] this kind of harassment takes place in the workplace, in a professional environment. And that means it's about power. The problem is that people don't step forward or say something if they're witnessing it because of fear of retaliation," Schwimmer said. "The more you're surrounded by other people who agree and see that something is wrong, the easier it is for someone to step forward. You feel like you have an army behind you."
And because sexual harassment is truly everywhere you turn, one of the films features a quote from Donald Trump's experiences as a harasser. One of the characters says, "Grab them by the pussy," which Avin said was absolutely done on purpose. Sexual harassment is a problem for everyone regardless of their political party, though. "This is not a partisan 'liberal Hollywood throwing their arms up against Trump' issue," Schwimmer explained. "Having said that, I found his boasting of committing sexual assault really disturbing. I think our leaders have to demonstrate a certain kind of character. When I think about my daughter, I find that difficult to explain."