Sha'Carri Richardson Suspended After Testing Positive For Cannabis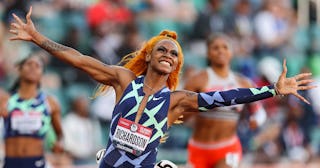 Patrick Smith/Getty
Sha'Carri Richardson won't be able to compete in the Olympic event she could have won after testing positive for marijuana
U.S. track star Sha'Carri Richardson was weeks away from the possibility of Olympic glory, but instead, she'll now be forced to sit out her signature event after testing positive for marijuana. Richardson, who qualified for Tokyo by crushing the competition in the 100m sprint at trials last month, received a one-month suspension from the US Anti-Doping Agency (USADA).
It's a completely devastating blow for the athlete, who is just 21 years old. Richardson gave an unequivocal apology for the sad situation on the TODAY show. "I want to take responsibility for my actions, I know what I did, I know what I'm supposed to do. I'm allowed not to do and I still made that decision. I'm not making an excuse or looking for any empathy in my case," she explained.
But empathy is exactly what Richardson deserves — she shared an absolutely heartbreaking story that makes it much easier to understand why someone in her position might found themselves smoking marijuana on the cusp of one of the most important competitions of their lives, despite knowing the risks and the rules.
Just days before the Olympic trials, Richardson said she found out that her biological mother had died — and she got that news from a reporter, right in the middle of an interview. How many of us would even be able to get out of bed in the morning if that happened to us, let alone go out and continue to compete on the world stage? "It was definitely triggering," Richardson said. "It was nerve shocking because it's like, who are you to tell me that?"
Even before knowing about that tragic situation, supporters were quick to come to Richardson's defense. Many expressed outrage that smoking marijuana — a substance that is legal in nearly 20 U.S. states, including in Oregon, where Richardson raced — could lead her to lose out on a chance to compete. As some pointed out, it's yet another instance where a Black person ends up punished for something that white people are making bank off of.
Others called on the USADA and Olympic organizers to get with the times and remove THC — the active ingredient in marijuana — from the list of banned substances. Which makes sense — it seems like a stretch to call marijuana a performance-enhancing drug, unless your Olympic event was like, a hot-dog eating competition.
For her part, Richardson said she is staying focused on healing and taking care of her mental health right now. There's a slim possibility that she'll be allowed to compete as part of the U.S. relay team, which she said would be a blessing if it happens. She told the TODAY show that if there's one thing she wants to tell her fans, as well as her haters, it's this: "Don't judge me, because I am human… I just happen to run a little faster."