Shake Shack's New Boozy Milkshake Needs To Get In Our Bellies Right Now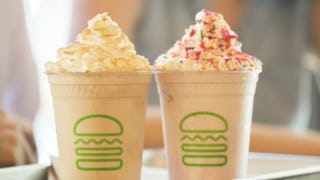 Image via Shake Shack
Shake Shack's boozy milkshake is made with prosecco – where do we line up?
Being an adult is hard and sometimes you have to make difficult choices. Do I have ice cream tonight? Or do I have wine? For some lucky adults among us, there's no longer a choice. Shake Shack just announced their boozy milkshakes and it combines the most awesome things in life into one magical adult drink.
The restaurant chain is offering prosecco-spiked milkshakes in honor of NBC's Will & Grace revival on September 28. The "Jack & Karen Shake", which is a fun play on the TV character's names – is a blend of strawberry frozen custard and prosecco, topped with whipped cream, rainbow sprinkles, and raspberry dust. Sign us up!
For those who don't imbibe, there's a virgin shake that also boasts decadent fabulosity. The "Will & Grace Shake" is a delicious dessert drink with cinnamon-marshmallow frozen custard blended with Shack fudge, topped with whipped cream and cinnamon sugar. Okay, take our money. All of it.
Both drinks are $5.99 (yup, even the boozy one) and are available for a very limited time – from September 18 to October 1. Additionally, the shakes will only be sold in New York City and Los Angeles at select locations (sorry to everyone not in LA or NYC).
But who says you can't make your own? If my milkshake can bring all the mom friends to the yard, so can yours. Let these magical milkshakes serve as inspiration for your at-home recipe. You can make your own creamy cocktails (virgins too) for the Will & Grace revival viewing party and everyone will think you're simply fabulous.
Additionally, Shake Shack is doing something pretty amazing with the money it gets from these shakes. According to their site, for every shake sold, Shake Shack and NBC will donate $2 to GLAAD, the world's largest LGBTQ media advocacy organization. The money will support their mission which is to change the narratives in our culture and introduce more LGBTQ stories.
We don't know how life could get better than TV's favorite foursome, boozy milkshakes, and advocacy. As the incomparable Karen Walker would say, "That's how you blend the best things in life, honey."
This article was originally published on