Shannen Doherty Is Officially Joining The Beverly Hills 90210 Reunion
by Thea Glassman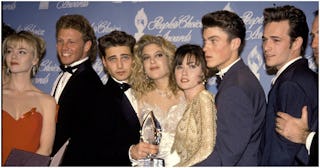 Image via Vinnie Zuffante/Getty
All of the original 90210 gals are going to be appear in the upcoming series
It wouldn't be a 90210 reunion without Brenda Walsh. Shannen Doherty announced that she'll be joining the upcoming series and now we're all officially ready to head back to West Beverly Hills High School STAT. Bring on allllll of the delicious nostalgia.
First, some quick background. The Fox series is called BH90210, will run for six episodes, and features much of the original cast (including *sigh* Jason Priestley). "What will happen when first loves, old romances, friends and frenemies come back together, as this iconic cast — whom the whole world watched grow up together — attempts to continue from where they left off?" Fox said in a statement about the the show.
And now we can officially add some much-needed Brenda drama into the mix. Doherty took to Instagram to share the news that she's re-joining the cast alongside an old picture of the whole crew on the beach. "Yes it's official. The real question is…. will we still be rocking those outfits," she wrote. Side note: yes, please do rock the below outfits. Jean shorts with patches sewed on FTW.
The rest of the 90201 gals were very excited to have the whole gang back together again. "It's OFFICIAL…ALL the OG 90210 girls will be together again! So exited to go on this journey with you," Tori Spelling wrote on Instagram.
https://www.instagram.com/p/BwvCkiOgJoh/
If that's not enough to get your 90's loving heart pumping really, really hard, just check out the teaser for the series.
Worth noting: this isn't actually a reboot of the beloved show. It's a whole different series that melds real with fantasy and actually sounds really, really cool.
"It's not technically a reboot, because I feel like everyone has seen the reboot. We don't want to be the last ones like doing the reboot thing, and no one wants to see like old versions of ourselves, but they do want to see us playing our characters, so what we're doing is the entire cast is playing heightened versions of themselves," Spelling told E! in an interview. "Think Curb Your Enthusiasm episodes, in an hourlong show, and we're all playing heightened versions, so it could be fictional, it could be non-fictional, people will have to guess."
Tragically, Luke Perry, who starred as everyone's first television crush Dylan McKay on the hit series, passed away earlier this year from a sudden stroke. The cast has shared their own personal tributes to him on their socal media accounts, and the new show won't be quite the same without him.
As long as we've got Brenda, Brandon, Kelly, and the rest of the crew back on the TV screen, I'm pretty sure we'll take literally whatever we can get.