Shannon Doherty Has Some Great News About Her Breast Cancer Fight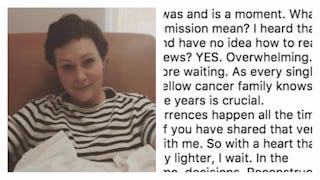 Image via Instagram
"I am blessed."
Over two years after being diagnosed with breast cancer, actress Shannen Doherty announced yesterday that she's in remission. The amazing news comes after a long journey of highs and lows, so many of which she shared with her social media following, inspiring others who are going through cancer treatment to keep up the fight.
In a poignant Instagram post, Doherty shares her feelings after being told she's in remission.
She writes, "Moments. They happen. Today was and is a moment. What does remission mean? I heard that word and have no idea how to react. Good news? YES. Overwhelming. YES. Now more waiting. As every single one of my fellow cancer family knows, the next five years is crucial."
Doherty is relieved, but full of caution. She acknowledges what every cancer patient being given the news of remission automatically wonders — will it come back? "Reoccurrences happen all the time. Many of you have shared that very story with me. So with a heart that is certainly lighter, I wait."
While she waits, she has some choices to make. Doherty underwent a single mastectomy as part of her treatment and also, has to decide on a course of prevention in the coming years. "Reconstruction which is several surgeries. Decision on taking a pill for the next five years that comes with its own set of problems and side effects."
Before getting her remission news, Doherty had a petscan to check if her cancer was gone. She shared her anxieties about recurrence then too. "Here's the thing…. even with positive results, it's the next five years that determine so much."
Like every cancer patient in remission, Doherty will wait and worry, but with her positive attitude and incredible support system, she has a big advantage in the fight. All along, she's shared how her mother, husband, friends and medical team have been there for her every step of the way. Her remission is welcome news for everyone, but as she knows, it will be a long time before they can truly relax.
In the meantime, Doherty is trying to stay positive and focused on what's to come.
"I am blessed, I know that. But for now…. remission. I'm going to just breathe."
This article was originally published on