Shannen Doherty Credits Her BFFs For Giving Her The Strength To Fight Cancer Again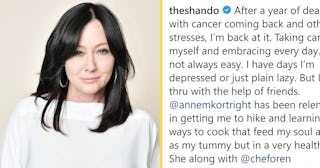 Neilson Barnard/Getty
Shannen Doherty is leaning on her friends as she fights Stage 4 breast cancer
It's been five years since Shannen Doherty was first diagnosed with breast cancer and three years since she announced to the world that she had beat it and was in remission. Unfortunately, last year, her cancer returned and she's been diagnosed with Stage 4 breast cancer. In a new post, she credits her friends with helping her "get back at it" as she battles the disease for a second time.
"After a year of dealing with cancer coming back and other stresses, I'm back at it. Taking care of myself and embracing every day. It's not always easy. I have days I'm depressed or just plain lazy. But I push thru with the help of friends," Doherty shared on Instagram next to a picture of her and two friends.
She said her friends have "been relentless in getting me to hike and learning new ways to cook that feed my soul as well as my tummy but in a very healthy way." She also says friends have made "cooking healthy fun and sustainable" and have been sending people over to kick her butt in the gym. All this, Doherty says, made for a productive week and one where she's feeling as close to back to her old self as possible.
Doherty talked to Good Morning America earlier this year, admitting she'd been silently fighting her cancer again for more than a year. "It's going to come out in a matter of days or a week that I'm stage four. So my cancer came back. And that's why I'm here," she said. "I don't think I've processed it. It's a bitter pill to swallow in a lot of ways."
Doherty continued, "I definitely have days where I say why me. And then I go, well, why not me? Who else? Who else besides me deserves this? None of us do. But I would say that my first reaction is always concern about how am I going to tell my mom, my husband?"
The 90210 alum has also been an advocate for staying on top of doctor's appointments and getting regular exams. "October. Breast cancer awareness month," she wrote, posting a black and white picture of herself in a hospital gown, standing at the mammogram machine. "Last week I went for my mammogram. As scary as it can be, it's also comforting when you get the all clear. Early detection is the key. Don't put it off!!!"
Here's hoping the world gets many more positive updates and pictures of Doherty with her friends and family. "I feel better," she concluded her post. "My skin is alive and so am I."
This article was originally published on