Shannen Doherty Shares A Poignant Post About Her Last Round Of Chemo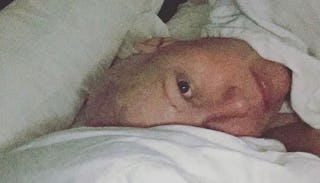 Image via Instagram
Doherty has shared the ups and downs of her battle every step of the way
Almost two years ago, actress Shannen Doherty was diagnosed with breast cancer. In the years since, she has let us in on her battle, including radiation, chemotherapy treatments, and all the highs and lows along the way. Happily, her latest update is a hopeful one.
Yesterday, Doherty shared photo on Instagram with an exciting message — she's just completed her final chemotherapy treatment.
She writes, "#fbf to this morning. Oct7,2016… not that long ago. Last day of chemo. Exhausted. Now that I'm done with chemo and radiation, the waiting game is here. Waiting for test. Waiting to see if I'm clear or not. Waiting for reconstruction. Waiting. I think when one gets cancer, they are always waiting to a certain extent. To those who know… I'm waiting with you."
Doherty is pictured without her hair, as she's been since last summer when she shared the process of shaving her head before starting chemo. All along, she's been incredibly candid and open about her cancer journey, providing so many other fighters of this terrible disease with hope and solidarity.
Ever since she first told the world about her diagnosis in the summer of 2015, Doherty has let us all in on every victory, and some of the bad days too. She posted about the machine that gave her life-saving radiation treatments, five days a week for several months. She also shared a vulnerable moment of honesty about the real and heavy toll chemotherapy takes on a person.
That's why as Doherty posts her most recent update, we're thrilled to see her take one more step toward being cancer-free and living a healthy life, attending more dance classes and enjoying everything that cancer makes it nearly impossible to embrace. I watched a close (and very young) family member battle breast cancer a few years ago and witnessing how it colored every part of her life was heartbreaking. The day she finished chemo was worthy of celebration because not only was she done feeling sick for several days every two weeks, she could look toward returning to a life of normalcy.
Of course, as Doherty notes, there's always the scary wait afterward. The panic of wondering if the treatments worked and if the cancer will stay away. That fear probably won't ever go away, but her strength shines through in every photo she shares and every word she writes. We're pulling for her and hoping that after this long fight, she'll only have good days ahead.