Shannen Doherty Shaves Head During Cancer Fight, Shares Touching Photos
by Maria Guido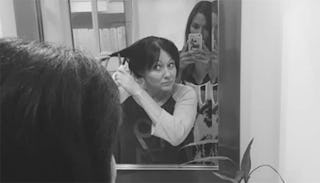 Image via Instagram
Shannen Doherty took to Facebook to share touching photos of the six stages of shaving her hair for her cancer fight
Shannen Doherty took to Facebook and Instagram this week to share photos of her cancer fight: specifically, the stages of preparing to shave her head.
Doherty's fight with breast cancer was revealed last year after a lawsuit against her former managers went public. She alleges her managers let her health insurance run out, and as The New York Daily News reports, claims "she didn't visit a doctor until she renewed her insurance, leading to a delay in receiving her diagnosis."
The images are a testament to her strong spirit. It's probably the most vulnerable you've ever seen the actress, made famous by her role on 90210, and again by her reputation for being a tough go-getter who takes no shit. As a 40-something woman I've followed Doherty since she was "Brenda" — and I respect her toughness now more than ever. It takes a truly strong individual to reach the world with such honesty.
In Step 1, she's seen being held by her mother, Rosa.
In Step 2, she begins cutting her own locks.
In Step 3, she's surrounded by love.
In Step 4, her friend Anne Kortright-Shilstat begins to take off more.
In Step 5, she's looking gorgeous, sans hair.
In Step 6, she's looking every bit the brave, strong fighter she is.
Kortright-Shilstat took to Instagram to repost one of the photos and leave her this message: "@theshando I couldn't be prouder of you today. Your strength and courage is so inspiring and I am so very lucky to have you in my life. Thank you for blindly trusting me today to help you with such a big step. I will forever be there for you no matter what. #f*ckcancer"
F*ck cancer, indeed. Wishing her all the strength to fight her battle.
This article was originally published on