Shannen Doherty Thanks 'Maggie' For Getting Her Through Cancer Treatments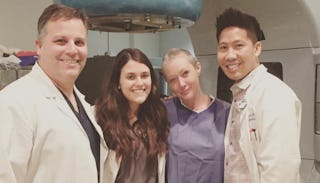 Image via Instagram
Doherty credits her medical team, including one very special cancer slayer
Shannen Doherty's shared many candid snapshots from her cancer journey on social media – the ups and the downs, the heartbreaking and the hopeful. In her latest Instagram posts, the star marks the end of her course of radiation therapy by thanking the medical team who cares for her, including one very special cancer slayer: Maggie.
Doherty explains that "Maggie" is actually the radiation machine used for her most recent round of cancer treatments.
She writes, "I've seen Maggie five days a week for what seems like forever. We have a love hate relationship. I love her because she's part of the life saving treatment I'm receiving. It's astounding how far we have come with technology. One day, Maggie will be retired and the cure will be found."
Doherty also shared a photo of herself with her medical team, posing in front of the life-saving machine.
She thanks her oncology team and of course, Maggie. "And a big thank you to Maggie. Everyday you rotated around me, I knew you were zapping the last of those pesky micro cells lingering behind," Doherty wrote. "Here's hoping I never see you again sweet Maggie!!!"
In the photo, Doherty is smiling as she stands with her Beverly Hills-based radiation oncologist and two medical staff members in front of the machine. According to E! News, Doherty's moving into the next phase of her cancer treatment regimen. Beyond the happy photo, it appears she's been doing some end-of-radiation celebrating with a trip to the Ramirez Tran Salon in Beverly Hills. She traded in her silver tresses, that are just starting to grow back, for brown.
And she looks beautiful.
Doherty credited the hair geniuses and added, "#cancerslayer with good hair now!!!" In truth, the woman is a stunning and badass human being no matter what hair color she sports.
Her grace and strength under such difficult circumstances has been nothing short of incredible. The 45-year old Beverly Hills, 90210 and Charmed star was diagnosed with breast cancer in March 2015, according to People. In the article, she explained that the cancer spread to her lymphatic system in 2016. She's had a single mastectomy and chemotherapy since, along with her recent rounds of radiation.
Through it all, Doherty's been determined to show her cancer triumphs along with heartbreaking truths. Three months ago, Scary Mommy wrote of her epic badassery as she rocked a dance workout, post-chemo treatment. In the Instagram post she wrote, "Any exercise during illness is good. We can do it!!!"
Just a month after her dance video, we shared her honest 'chemo day' photo, where she was photographed in the fetal position on a hospital bed. "Sometimes one isn't able to dance, or eat or even to think about the next day," Doherty wrote. "Sometimes it just feels like you aren't going to make it."
Her willingness to share something so personal has made her cancer experience relatable in many ways. As she navigates her journey, she invites us in and gives us really important gifts: empathy and understanding. In her words, "Possibility is possible. To my cancer family and everyone suffering …. stay courageous. Stay strong. Stay positive."
Now, let's all hope for a cure.