Shay Mitchell's Boyfriend Doesn't Want Her Getting An Epidural To Give Birth
by Leah Groth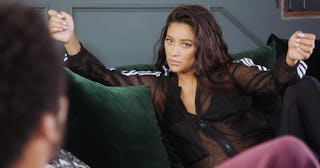 Shay Mitchell/Youtube
Shay Mitchell's boyfriend seems to think he has a say in whether she gets an epidural
Since announcing her pregnancy back in June, Shay Mitchell has been thoroughly documenting her journey on a hilarious YouTube series, covering everything from why she opted to keep her pregnancy a secret for so long to why she is wearing adult diapers. In the third installment of Almost Ready, released this week, the actress discusses her birth plan with boyfriend Matte Babel, who has some seriously, um, opinionated things to say about women who opt to get an epidural during child birth.
"I've been thinking a lot about this birth plan and I feel like we need to be more on the same page with this," she tells Babel. "You say no epidural, I say epidural."
"Am I partial to no epidural? Yes," he replies. "Why? Because I'm a hypochondriac. I'm afraid of drugs. My mom didn't use an epidural… I meet women all the time who didn't choose to use epidurals."
Mitchell wasn't shy about confronting her partner, posing a hypothetical situation he might be able to relate to a little more than childbirth. "Would you get a root canal without any drugs?" she continues. "You're in excruciating pain and I'm holding the medicine like this and I'm like, 'You can have it and it wouldn't do any harm, but you don't want it. Do you want to be a fighter? Fight through it.'"
But Babel doesn't like the comparison, claiming "A root canal is not comparable because you're not born to go through a root canal. As a woman, your body is genetically engineered to give birth."
"Well listen, next time, you can do this," responds Mitchell.
The future dad also has opinions on what a woman is supposed to do with her new baby — especially when it comes to breastfeeding. "If you can't breastfeed, I completely understand," he says when the topic came up. "If you have the innate ability to breastfeed and the kid latches, why wouldn't you want the best for your baby?"
Mitchell interjects, informing him, "Formulas are good too."
Of course, he continues to mansplain to her all the benefits of breastfeeding, before adding that women who physically "can't do it" are officially exempt from their nursing duties. Phew. Glad we have his approval there.
During the episode, Mitchell also attempts to give him an idea of what it feels like to be pregnant, presenting him with a 30-pound pregnancy suit. Unfortunately, the costume didn't come with features such as baby kicks, cramps, contractions, urine leaks and heartburn, so he didn't really get the full experience.
Obviously, so many people had thoughts about Babel's "opinions." He got no love.
Humans of the male species, use this as a learning experience. Never, I mean NEVER, tell a woman what to do with their body. Especially in a public forum. You will not come out unscathed.
This article was originally published on