Shay Mitchell's Gorgeous Breastfeeding Photo Brings Out The Trolls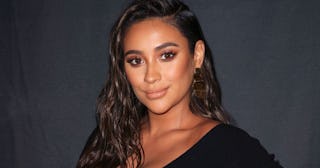 David Livingston/Getty
Shay Mitchell faces backlash from trolls over glam breastfeeding photo
Shay Mitchell gave birth to her first child over the summer and to celebrate new motherhood, breastfeeding, and the bond between mother and child — Shay and her daughter Atlas Noa posed for a gorgeous photo that depicted a triumphant Shay breastfeeding her little girl. The actress captioned the photo, "breast friends," and the photo received a ton of praise, but not surprisingly, a bit of troll action too. With complaints ranging from "she just wants attention" to "this makes me feel bad," Shay's beautiful moment was tainted by unfair fan backlash.
One person took offense that she was "connected with the camera" and not her child. Apparently, they don't know that the job of an actor (or any person taking a photo, for that matter) is to literally connect with the camera.
Mitchell actually had the perfect clap-back to the above comment and wrote, "I missed the part in the baby books that stated I had to maintain eye contact with my daughter while she feeds rather than capturing an amazing moment we were having. Pls let me know where I can download your parenting manual." **Mic drop.**
Others were upset that Shay was painting an "unrealistic" portrait of motherhood and that this would be a "disservice" to women who are struggling to breastfeed. That may be true, but Shay is not a corporation "sending a message" about breastfeeding. She is a human woman and this is her experience, and as a reminder, one person's experience does not negate another's. If Shay actually breastfeeds in full glam, more power to her.
There were other nasty comments ranging from "tacky" to assertions that she's "screaming for attention." Ugh, ugh, ugh.
However, for every rude comment, there were about 10,000 others praising the new mom for her fierce, glam, and empowering photo.
"SLAY Mitchell at it again," said one commenter, while another wrote, "you're a goddess." Hilary Duff joked that the photo is "exactly what I looked like," and Vanessa Hudgens also opined, "I mean come onnnn."
Unfortunately, if you are a mom, you are going to be mom-shamed — and especially on the internet. A couple of months after giving birth, Shay was mom-shamed for going to a party with her partner and posting about it on Instagram. The trolls hate it when moms need to get out of the house. Now Shay is shamed for looking too good while breastfeeding (???), and honestly, it's exhausting.
Aside from her clap back to the first comment, Shay has yet to address this latest bout of motherhood-focused trolling, but it seems like mom and child are doing just fine. Shay: 1, Trolls: 0.