Shay Mitchell Doesn't Care That You Know She's Wearing Diapers During Her Pregnancy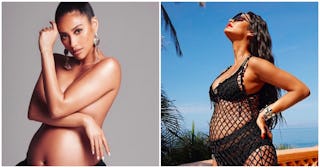 Instagram
Shay Mitchell has no shame in wearing adult diapers during her pregnancy
Shay Mitchell is an open book. After tearfully opening up about her past miscarriage on her path to motherhood, the newly pregnant star is getting real on a lighter topic these days: adult diapers. In an episode of her YouTube series Almost Ready, Mitchell admits that she hasn't slowed down since becoming pregnant and still works 16-hour days on the set of her new TV show Dollface. However, her grueling work days aren't exactly simpatico with the fact that she has to pee all the time.
After complaining that she went to the bathroom "22 times" in one half hour the night before, Mitchell decided to just start wearing diapers.
"Honestly, guys, I've never known that somebody could pee as much as you do when you're pregnant," she admitted to her stylist Monica Rose. "It gets so annoying going to the bathroom all the time!"
Mitchell literally shows off her diapers at the 1:30 mark and yep, she really is wearing diapers under her presumably couture skinny denim jeans.
Mitchell added that she couldn't even do her job because the layout of the set wasn't created with a pregnant woman in mind.
"The set was way over here. The bathrooms were like way over there," Mitchell joked. "I peed myself…I'm having to pee way too much. I'm over it."
Also, whatever diapers Mitchell was wearing looked chic as hell. A quick google for "chic adult diapers" (yes, really) led us to Willow, and honestly, these incontinence undies look comfy af. Also, Mitchell isn't playing around — pregnant women are at a greater risk for UTIs, so a girl needs to pee!
Elsewhere in the video, Mitchell admitted that her original pregnancy philosophy was that she was going to power through life and work at the same speed she always had.
"I'm still me and I'm gonna continue to live my life how I did before I was pregnant," she stated at the top of the video. "I worked before, I'm gonna work after, and now I just need a different size pants. That's pretty much it."
However, now in her third trimester, Mitchell realized that she bit off more than she could chew. The actress reached her breaking point while doing a grueling night shoot in a poorly ventilated set that was recently painted. She finally realized that her health and her growing child's health was worth more than a work obligation.
"I've always enjoyed working and keeping busy, and for the most part have a hard time taking it easy," Mitchell wrote in the video's summary." Anyone who knows me knows I only have one speed. Making a conscious effort to slow down has been a bit of challenge, but the farther along I get in my pregnancy the more instinctual it's becoming."
We're happy for Mitchell and her pregnancy journey and we applaud any queen who wears diapers with zero shame.
This article was originally published on