Pregnant Shay Mitchell Tearfully Opens Up About Her Past Miscarriage
by Christina Marfice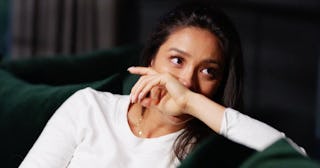 Shay Mitchell/Youtube
Shay Mitchell opened up more about her miscarriage last year as she prepares to welcome a baby this fall
Actress Shay Mitchell is currently six months pregnant and seems over the moon to welcome a baby with her partner, Matte Babel. But a few months ago, she revealed in a heartbreaking Instagram story post that this isn't her first pregnancy. She and Babel actually suffered a miscarriage last year.
Now, in a new Youtube series she's launching as she prepares to be a mom, Mitchell is opening up more about her miscarriage, and about the experience of expecting a baby again after going through all that grief and heartache.
"I chose to hold on until I announced because of the first time," she explained in the first episode of the series, which is called Almost Ready. "It didn't go as I had hoped for, and it was extremely difficult."
Mitchell revealed that she lost the baby at 14 weeks, which is why she and Babel waited until the end of June, about five months into her pregnancy, to make the announcement this time.
"At that point, I had no idea, the percentage of miscarriages," she said, holding back tears. "When it happened, I was just completely blindsided by it."
The Pretty Little Liars alum also revealed that she and Babel weren't expecting their first pregnancy, but they were thrilled when they found out they were going to have a baby. Now, with a daughter on the way, Mitchell said her mix of emotions can be bittersweet, something moms everywhere (especially those who have experienced miscarriage or infant loss) will be able to relate to and empathize with.
"I still have those photos on my phone and I still have all the doctor visits … and it's weird because I haven't looked at them, obviously. But it's not like I forgot about that happening," Mitchell continued, openly crying by this point. "So of course I'm super happy, but I still feel for the one that I lost. I know other women and other friends of mine who've gone through a way harder journey."
She added, "It's just really tough because you feel broken, as a woman, and that's not a great feeling."
That's something no mom should have to go through, but it's common nonetheless. 20 percent of all pregnancies end this way, but despite how common it is, we struggle to talk about this thing that so many women experience. By being more open, we let all women know that they're not alone if it happens to them, so thank you, Shay Mitchell, for bravely speaking about something so painful and personal.
This article was originally published on