She Persisted Is Perfect For Your Tiny Feminists And Mini Activists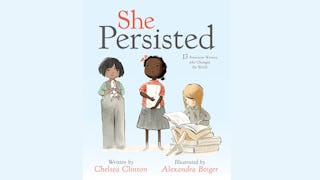 "Sometimes being a girl isn't easy. At some point, someone probably will tell you no, will tell you to be quiet and may even tell you your dreams are impossible. Don't listen to them," Chelsea Clinton tells readers in her new book, She Persisted.
Our children absorb the messages the world sends them. We can't shield them from everything, but what we can do is teach them how important and valuable they are. We can tell them stories of those who have not only endured, but persisted — and succeeded in achieving their dreams.
In early 2017, Senate Majority Leader Mitch McConnell attempted to silence Senator Elizabeth Warren on the senate floor, and an inspirational slogan was born when he said, "She was warned. She was given an explanation. Nevertheless, she persisted." In her quest to read Coretta Scott King's letter to Congress, Elizabeth Warren didn't take no for an answer, and in the process, inspired people everywhere, including Chelsea Clinton, who wrote a book that celebrates the spirit of resilience. Her new children's book, She Persisted: 13 American Women Who Changed the World is dedicated to Elizabeth Warren "and in celebration of all women who persist every day."
What better way to pass this message on to our children, then by relaying stories of other women, throughout history, who have persisted?
"She Persisted is for everyone who has ever wanted to speak up but has been told to quiet down, for everyone who has ever tried to reach for the stars but was told to sit down, and for everyone who has ever been made to feel unworthy or unimportant or small," the dust jacket reads. The book tells the story of 13 women who persisted against all odds including Harriet Tubman, freedom fighter and "conductor" on the Underground Railroad; Nellie Bly, the woman who created investigative journalism; and Virginia Apgar, who invented the score to test a baby's health, which all hospitals over the world still use today.
Each story is written briefly and easily enough for kids to follow and understand. The illustrations by Alexandra Boiger are colorful and compelling. The book will be an inspiration — for your daughters and sons alike.
As Chelsea Clinton says in She Persisted, "So, if anyone ever tells you no, if anyone ever says your voice isn't important or your dreams are too big, remember these women.
"They persisted and so should you."
Penguin Random House is the international home to nearly 250 editorially and creatively independent publishing imprints. Together, our mission is to foster a universal passion for reading by partnering with authors to help create stories and communicate ideas that inform, entertain, and inspire, and to connect them with readers everywhere.
This article was originally published on