These Sheet Masks Will Give Your Skin A Major Dose Of TLC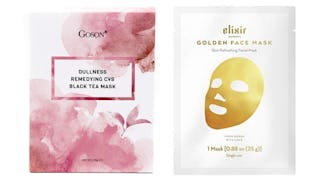 Image via Amazon
These sheet masks will give your skin an instant pick-me-up and plenty of glow
It's officially that time of year when you want to curl up in a bathrobe, drink all of the hot drinks, and wear all of the chunky socks. If you're going to go down that cozy, self-care route, you might as well get down with some extremely cute, vitamin-packed sheet masks. Bring on all the TLC.
Meet your new best friend. This collagen mask contains licorice root, which will fight back against dark circles, discoloration, and age spots. Take me to Youth Island immediately.
There are ten sheet masks in this kit that are putting in the work. Sheets include treatment for wrinkles, moisture, firming, and texture care. You just have to sit back and relax (preferably in a bubble bath).
This sheet mask is jam packed with Vitamin C, which means it'll deliver all the brightness. In the immortal words of Tyra Banks in Life Size, "shine bright, shine far, don't be shy to be a star."
Time to get extra luxurious. This gold mask promises to even skin tone, smooth fine lines, and deliver plenty of moisturizing collagen and Vitamin E. Also, the reviews are almost unanimously glowing.
Avocado toast is the best thing that's happened in the culinary world. But avocado on your face? Potentially even better. This sheet mask is enriched with the delicious green fruit and provides a ton of hydration. You should probably eat your avocado toast while wearing your avocado mask. Win-win.
This tea mask promises to brighten your skin, stimulate the production of collagen, and boost moisture. Prepare to experience complete and utter bliss.
When it comes to picking the best sheet masks, it's always helpful to look at reviews. And these aromatherapy sheet masks have the best of reviews. There's a unanimous five star rating for this bad boy, which is made from coconut and contains healing flowers, almond oil, and clary sage oil.
Ummm…a rose gold honey mask? Yes PLEASE. This one comes in a gold-honeycom sheet that's rich in propolis extract, 24K gold and essence. Prepare to die and go to heaven multiple times.
Now, go get your silky, nourishing self-care on. Pure bliss awaits.
We are a participant in the Amazon Services LLC Associates Program and may earn fees by linking to Amazon.com and affiliated sites.
This article was originally published on