This $119 Hypoallergenic Sheet Set is On Sale For $39 Today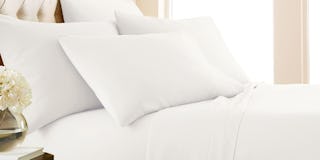 StackCommerce
The importance of having multiple sheet sets never quite hits until you're a parent. If you've experienced potty training, you know all the tricks: have another set already on under the mattress protector for easy midnight changes, have two or more sets so you aren't doing laundry all the time, and if the kids like to come into your bed, all of these tricks apply to your king or queen size bed for those mornings you wake up in a damp puddle.
At least one of your alternate sheet sets should be made of bamboo–give this Bamboo Comfort Luxury Six-Piece Sheet Set a try. Bamboo fabric is cooling, hypoallergenic, eco-friendly, and wrinkle-resistant, so you won't notice the difference if you don't get around to folding them before you make the bed.
Hypoallergenic sheets can contribute to a better night of sleep. If you're triggered by dander and small particles, your sheets could actually be collecting them and causing you damage when you press your face into them for hours. Triggered allergies can keep you up at night, and a hypoallergenic set may be your key to sleeping soundly.
The set comes with a flat sheet, fitted sheet, and four pillowcases in the same cooling and long-lasting fabric that won't fade after loads of washes, and over 850 reviews earned them a 4.5-star rating. Lisa M. accompanied her five-star review with, "Sheets are made well and wash well. I love bamboo fabric because it 'breathes' like cotton. I bought a second set because I liked the first so much!"
The Bamboo Comfort Luxury Six-Piece Sheet Set comes in all standard bed sizes, from full to king, and in seven colors. Pick the size and color combination that fits your family best while the six-piece set is 67% off. They usually retail for $199, but you can get them for $38.99 today.
Prices subject to change.
This article was originally published on