Shelter Puppies Get A Newborn Photoshoot
by Cassandra Stone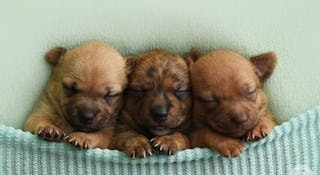 Image via 11 Sixteen Photography
What the world needs now is puppies, sweet puppies
When you combine a professional photographer with a litter of ridiculously adorable puppies, you get one of the sweetest sights your eyes have ever beheld: a newborn photo shoot, but with teeny tiny chihuahuas in place of a teeny tiny human. We daresay this newborn photo sesh is precisely the dose of "aww" we all need today.
Kelly Frankenburg is the photographer behind 11 Sixteen Photography in Richmond, Virginia. She told People magazine she and her husband recently began fostering animals from their local animal shelter, and what better way to ensure these little love muffins get placed in loving homes than to showcase them in proper fashion?
This little trio — Tito, Messi, and Love Bug, respectively — came along with their Mama, Paris, to the Frankenburg home and will stay there until they're old enough for adoption.
"I hope that people see our story and pictures and it opens their eyes to shelter animals and the need for foster families," Frankenburg told Scary Mommy. "There are so many animals who need our help."
The puppies were just two weeks old when they came to Frankenburg, which is about the exact age most newborn humans are during newborn photo shoots. Which means they are just as sleepy and pliable and ready to be posed, photographed, and fawned over. Between this and dog maternity photos, we don't know what we love more.
OMG. Look at those little paw beans.
Frankenburg and her husband have children of their own, and feel that fostering animals is a great experience for the whole family.
"By fostering I am teaching my children to be kind and compassionate," she says. "They are learning responsibility and respect. I want to raise animal lovers who are willing to help others."
She swaddled the puppies just like she would during any other newborn shoot, and even let their Mama in on the action. Just look at this beauty in all her new maternal glory!
Frankenburg says she's taken aback by the outpouring of support. "It has been heartwarming to see our story shared around the world."
She says she's been inspired by the reaction to these photos to continue doing what she can for animal shelters and helping animals in need get adopted into loving homes.
"I plan to donate my time to the local shelters and photograph the animals living there to help heir adoption profiles and change the way potential adopters look at them."
We can't wait to see more images like these, especially if it means more fur babies find their forever homes.
This article was originally published on