Here's A Peak Into The Most Iconic Family Vacation In NYC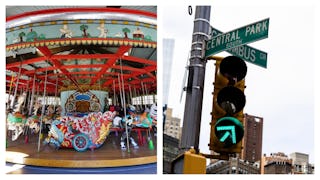 Image via Shutterstock
The Sherry Netherland's family package is peak NYC
Traveling to the big city with kids isn't the most relaxing idea. How will they deal with the subway? Can you stick them in a taxi without a carseat? How exactly do you schlep multiple young children around a city you're unfamiliar with?
An historic NYC hotel, The Sherry Netherland, has figured out a way for families to do the city in style — and we got a sneak peek. It may just be the most iconic NYC family package out there.
What better way to tour the city than to be dropped into a luxury apartment, centrally located and walkable to all the sites your kids want to see? The hotel sits on the corner of 5th Avenue and 59th street, right across the street from the south entrance to Central Park. The Central Park Zoo, The Museum of Natural History, and The Central Park Carousel, are basically right outside your door. The iconic Plaza Hotel is steps away, too — for any child who loves Eloise and want to see her digs.
The hotel calls the package "The Family Getaway." The package comes with four tickets to the Central Park Zoo, four tickets to the historic Central Park Carousel, and goodies for the kids. "Louis the Giraffe" is a nod to the legendary confectioner who built the iconic property ninety years ago. And yes, a box of his amazing chocolates are waiting for you, too.
And the room? You can't really call this a room. You'll probably want to call it "Why isn't this my apartment?" It's a giant living room, a huge bedroom, a kitchen, and two bathrooms. That's right, you don't have to share your bathroom with your kids. This is truly how the other half lives.
The giant living room turns into the kids' room at night. A pullout sofa stationed right in front a big screen TV is every kid's dream.
And about that master bedroom…
Anyone who has had the pleasure of staying in NYC hotels knows that "spacious" isn't really something that can describe most rooms. This hotel is an exception to that rule.
You can explore the Sherry Netherland's packages, here. The hotel also offers rooms from $329 per night. A family vacation that the whole family can enjoy — what a novel idea.
Resorts or locations that would like to be considered for travel coverage, please e-mail travel@scarymommy.com
This article was originally published on