Spring Is Here And You Need These Pink, Shiny Rain Boots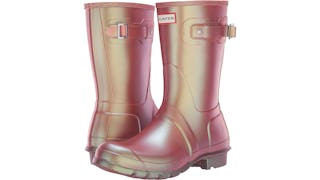 Image via Amazon
These shimmery pink Hunter boots are going to be the best thing to happen to you this spring
I'm sort of ashamed to say how long it took me in my adult life to discover the literal magic that is rain boots. If you live in a super snowy climate, your "spring" is bound to be plenty of mud — and rain. If you live in a super rainy climate, well, hello. Either way, the need for rain boots is clear. They're a total outerwear wardrobe essential. That's why we're extremely happy to report that Amazon has a ridiculous selection of fun rain boots — starting with these dreamy pink Hunter numbers that we need immediately.
Check out these shiny, shimmery, gorgeous pink Hunter boots. You need them. This is not a time for games.
But if iridescent pink isn't really your speed (I'll try not to judge), there are tons of other designs and colors to make your spring just a little bit brighter.
If flower power is more your thing, Hunter has you covered with these positively dreamy floral short boots.
And if flowers don't pack quite enough spring whimsy for your taste, how about these adorable kicks that have both flowers and butterflies? I'll be ordering these myself, TBH.
Ok, ok, one more floral pair and we'll move on, I promise. Nothing says spring like flowers, so it's easy to get caught up in this trend of super cute boots covered in lovely blooms.
I said no more florals but made no such promises about butterflies, so please feast your eyes on these magical butterfly rain boots. They're mid-rise and perfectly sweet and pretty for when the weather isn't quite cooperating.
If classic is a little more appealing to you, how about these rubber yellow boots that hit about mid-calf and go with pretty much anything?
These cutie booties (see what I did there?) come in so many precious patterns including these great doggo ones, but also, bumble bees, dragon flies, and yes, more flowers. It's spring, I'm sorry, they come with the territory.
As long as we're on the topic of rain boots covered in animals, allow me to introduce you to these birdie boots that I must add to my collection immediately. I'm currently hoping for a very rainy spring, because I'm super prepared.
If mid-calf isn't quite enough and polka dots make your heart sing, check out these tall, spotted rain boots that are so cute you'll want to wear them even when it's bright and sunny.
Or maybe these very modern chevron-print wellies will make you happy when skies are grey.
Whatever pattern (or solid) you're into, there's a sweet pair of rain boots for you. Or a dozen. Whatever you need to do, we don't judge.
This article was originally published on