5 Shitty Birthday Presents My Kids Never Saw Coming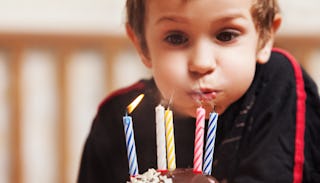 Kid birthdays are a pretty big deal around here. We pull out all the stops to make each child feel extra celebrated on his/her special day, right down to the festive streamers decorating the "throne," a tower of gifts waiting to be pillaged, and a store-bought cake iced in the colorful cancerous hues of his/her choosing.
But sometimes the gifts we give catch the kids a bit by surprise. Because getting another year older in our house also means taking on additional responsibilities. Nothing says encore after a heartfelt rendition of "Happy Birthday" like a boldly stated new chore pronouncement.
It just so happens most of these new chores tend to revolve around crap, like these 5 shitty birthday presents my kids never saw coming:
1. 4 Years Old: CONGRATULATIONS, YOU GET TO WIPE YOUR OWN ASS NOW!
Wiping toddler butt is worse than having a kid in diapers. At least with diapers you can lay them down and really get into those cracks and crevices, all the while keeping your nose a nice, safe distance from the offending area. Trying to do this when your kid is squatting on the toilet, without throwing your back out, is downright impossible.
2. 6 Years Old: CONGRATULATIONS, YOU GET TO CLEAN THE DOG'S SCOOT MARKS NOW!
Nothing gets me to scream "Nooooooooooo!!!!" louder than when the dog suddenly tucks her butt into the scoot position and then proceeds to schmear a trail of shit all over my light-colored carpets. Why she never thinks to perform this maneuver on the hardwoods is simply beyond me. Spray. Wipe. Repeat. A freaking monkey could do it. And so can a 6-year-old.
3. 8 Years Old: CONGRATULATIONS, YOU'VE MASTERED THE DOG'S SCOOT MARKS. YOU GET TO PICK UP THE ACTUAL SHIT NOW!
This gift is doubly sweet for the giver because you get two for the price of one. Assuming you live in a relatively safe neighborhood, now that your 8-year-old has graduated to full-fledged poop picking up status, this means he's now also old enough to take the dog on a short walk by himself. As soon as he's done blowing out the candles, hand him the leash and a plastic bag and send him on his festive way. His cancer cake will taste all the sweeter when he gets back.
4. 10 Years Old: CONGRATULATIONS, YOU GET TO PLUNGE YOUR OWN CRAP NOW!
On his 10th birthday, as I was putting my son's sandwich on the table, he came out of the bathroom and said somewhat triumphantly, "I clogged the toilet." The smug little smirk on his face all but screamed, "Sucks to be you, Mom." Then he proceeded to sit down and tuck into his monstrous BLT like he was the King of Shit Castle.
"Nuh-uh. I don't think so. You pooped it. You plunge it," I firmly said.
"Who, me? I don't know how to do that!" he said with feigned shock.
"Well then, I guess today's the day you learn. You're 10 now. You take a big shit, you get to be a big shit."
5. 12 Years Old: CONGRATULATIONS, YOU GET TO CLEAN THE TOILET BOWL NOW!
I still have to wait a couple of years to see the priceless look on my son's face when he finds out about this present, but I smile just thinking about it. Seeing as he turns 12 in the month of August, he'll be more than ready for that infamous early-in-the-school-year stomach bug our family always seems to get.
Of course this all culminates in the biggest shitty birthday gift of all. When my oldest turns 50 I'll loudly pronounce "CONGRATULATIONS, YOU GET TO WIPE MY TIRED 80-YEAR-OLD ASS FOR ME NOW!" The handwritten card is already filled out and ready to go. Just in case the old fingers are a little too rickety by then.
These crappy chores are bound to build character and will no doubt help to keep the kids from turning out to be shitty people.
You're welcome kids. You're welcome.
Related post: The Universal Birthday Party
This article was originally published on