This Dad And His Baby Girl Are Nailing It In Hilarious Series Of Costumed Photos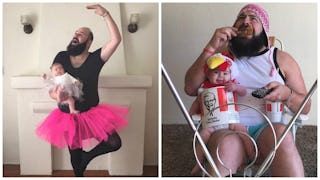 Image via Sholom Ber Solomon
She loved having her photo taken, so he went with it
Let's face it — babies can be a little boring. Until they can talk back and hold their heads up reliably, caring for an infant amounts to a lot of thankless work. The overall experience can definitely use some levity, and one dad found it by creating staged photos of himself and his baby girl in costume.
Just wait until you see her as a garden gnome.
Sholom Ber Solomon is a 36-year-old California dad living it up with 9-month-old daughter Zoe. He loves dressing in costume with her and having wife Carli take staged photos of the adorable pair that he shares on his Instagram account, @sbsolly.
According to The Daily Mail, London-born Solomon got the idea to do the funny photos when he realized how happily his little girl sat to get her picture taken.
Oh. My. God. We could literally eat her up.
It's important to note that Solomon is no rookie when it comes to entertaining people with staged photos. Before Zoe came along, the vintage furniture store owner took pictures in costume by himself that he shared with friends and family.
Clearly, Zoe helped him step up his game.
"She definitely makes all the pictures a lot cuter as without her I'm just a fat chubby guy who likes to take silly pictures. The ideas for what me and Zoe will do next is endless," he shares.
Although his daughter is a happy kiddo, he does acknowledge that sometimes the costumes are slightly uncomfortable for her. "Zoe has always been such a smiley baby but the gnome beard was definitely itchier then she would've liked."
Sorry, Zoe. Worth it.
They look like naturals in those tutus.
And in leis.
Luckily for the internet, Solomon is only just getting started. "I plan to take photos with her as long as she will let me," he says, even hoping to extend the fun project into her teen years.
We love the way this dad is building a relationship with his daughter and have no doubt she will enjoy looking back on all the fun she had with her father from the very start.
Yes, even the itchy garden gnome beard.
This article was originally published on