A Disney Exec Snub Was The Last Straw For Shonda Rhimes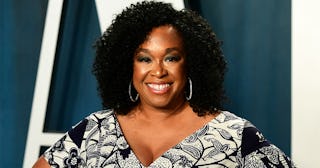 Ian West/PA Images/Getty
After the snub, Rhimes immediately called her reps to strike a Netflix deal
Shonda Rhimes, who has the golden touch when it comes to fast-paced, binge-worthy, addicting television, is opening up about her decision to leave ABC for Netflix two years ago. While many factors played into her decision, the ultimate "final straw" is a real head-scratcher in terms of what the ABC/Disney executives could have possibly been thinking.
In case you've been living under a rock, Rhimes is the creative genius responsible for Grey's Anatomy, Scandal, and Private Practice — all instant hits on ABC during the early-mid aughts. Rhimes says the work pace was grueling and she regularly got into creative squabbles with network executives.
"I felt like I was dying," she told The Hollywood Reporter in an exclusive interview. "Like I'd been pushing the same ball up the same hill in the exact same way for a really long time."
Which, given the fact that she had three hit shows running simultaneously, is understandable. That is A LOT, period. And these shows were huge, with enormous fan followings, major viewership and ratings numbers, and likely made ABC a pretty penny.
So it's a little disappointing that Rhimes explains a scenario where she wasn't treated very respectfully by network executives, which was ultimately the final straw in her working relationship with them.
One perk of working for ABC was that Shonda was given Disneyland park passes for herself and her nanny. When her sister was in town and wanted to go to the park, Rhimes couldn't attend with her so she asked ABC to extend the ticket pass to her sister, who would go in her place to help supervise her kids along with her nanny.
According to Rhimes, the network tried to guilt her over her request, making sure to tell her "we never do this" multiple times and overcomplicating the situation. The network eventually gave her sister the Disneyland ticket, but when she and the kids got to the park, it didn't work. Rhimes made a call to a "high-ranking executive" about the matter, hoping he'd sort it out.
He responded with this instead: "Don't you have enough?"
Here's the thing. Those tickets were part of her employment package — which means they're technically part of her salary. Her request wasn't unreasonable. But she's a woman in a male-dominated industry, and a Black woman at that, which means even if your creative genius churns out millions of dollars in revenue in amazing television shows, you'll be made to feel guilty for a simple request that you were entitled to in the first place.
After the exchange, Rhimes said she knew what she had to do. She thanked the executive for his time, hung up the phone, and called her lawyer. She instructed them to figure out a way to get her over to Netflix, or she'd find new representatives.
And now she's slated to produce 12 new shows throughout her $150 million deal with Netflix, the first of which, Bridgerton, based on This Author's favorite historical romance series of all time, will premiere on Christmas Day. BOOM.