I Binge-Watched 'Bridgerton' — And Was Hooked On The Characters
by Nikkya Hargrove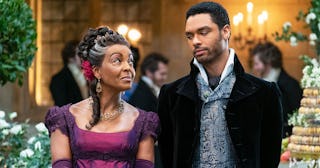 LIAM DANIEL/NETFLIX
Shonda Rhimes's first production for Netflix, called "Bridgerton," roped in 63 million viewers, myself and my wife included. It appeared in my queue weeks ago, as a suggested pick by Netflix based on my viewing history, teasing me to watch the damn show.
I generally don't get into period dramas and the last one I truly binged on was "Downton Abbey." After the first episode of "Bridgerton," though, I was hooked. Not because of the storyline (though eventually, that's why I stayed) but because every single character struggles with their own identity, their plot in life. I wanted to see how these characters dealt with the messiness of their lives. Why can't the Bridgerton boys commit to courting and marrying the person they love? Why can't a woman as quirky as Eloise be free? Why can't Simon settle into the feelings he has for Daphne?
Shonda's female characters (mostly) exude power and show viewers what can happen when women have power. Her male characters show us, almost immediately when they grace the screen, exactly who they are: broken, fractured men who need love, just like the rest of us. Many (if not all) of her characters are going through some shit. And we can all identify with that, can't we?
When I watch a Shonda Rhimes show, I know exactly what I am going to get: a diverse cast who play characters with baggage. Throughout her shows, I will get to see them unpack that baggage — at work, in their relationships, even between the sheets as they hop from one affair to another. They are broken people who yearn to be loved, in some cases by anyone who will give them affection or a second glance.
We get powerful women who will undoubtedly show us all of the messiness that comes with having that kind of power — from Annalise (Viola Davis's character in "How To Get Away With Murder") to Olivia (Kerri Washington's character in "Scandal") to Daphne Bridgerton (Phoebe Dynevor's character in "Bridgerton"). The depth of Shonda's characters give us what so many of us deal with in real life: Drug addiction, affairs, self-doubt, resiliency, fearlessness, failed marriages, sexuality, family relationships, loss, trauma, and so much more. It reminds us that how we identify goes well beyond the color of our skin or our actions, but is shaped by all of it — especially our place in society. Throughout our lives, due to circumstance or time period, our identities can change. In her characters like Olivia and Annalise, we get to watch them grow from extremely broken women into more whole versions of themselves, just like we get to see Simon Basset (Regé-Jean Page) in the very first season of "Bridgerton."
Shonda forces us to think a bit more about the role race plays in our lives, not only as women, but as humans. In "Bridgerton," she reminds us that Black aristocrats existed in a time period we don't often talk about. Noted by a critic's review in the New York Times, the writer states, "In contrast, the characters of 'Bridgerton' never seem to forget their blackness but instead understand it as one of the many facets of their identity, while still thriving in Regency society. The show's success proves that people of color do not have to be erased or exist solely as victims of racism for a British costume drama to flourish." In "Scandal" and "How To Get Away With Murder," she gave us women who were at the top of their game, in professions that we don't often see Black women represented on television.
Shonda makes a very deliberate choice to bring interracial relationships to the screen, diverse and complicated relationships like that of Daphne's and Simon's, which is built on a foundation of a ruse to get more suitors interested in Daphne. There are people on social media asking why Shonda always has her lead Black character fall in love with a white man or Bridgerton's case, a Black man with a white woman. For me, the "why" rests in the gift Shonda has which reminds us of our history (white men always powerful, leading, showing the rest of us how it's done) while introducing us to a reality that can be different; that our identity as a culture is not wrapped up in another's power. That their identity does not represent who we are as a people, as Black women or men, and in the end that no one truly is all-powerful. We all have a breaking point, Black or white.
For me, watching Shonda Rhimes's shows isn't about dissecting the choice she makes in creating relationships between a Black woman and a white man or a white man and a Black woman, but her ability to bring to the screen diversity that we all need to be reminded of — whether it's in sexuality, lived experiences, relationships, or the traumas people experience. It is about the storyline, how the characters get from point A to point B throughout the season.
I had so many questions, and as I binge-watched the season with my wife last week, digesting two episodes a night, I remembered the last episode in the final season of "How To Get Away With Murder." That's the episode in which Annalise (Viola Davis) laid herself bare in a courtroom in front of a jury and her law students as she defends herself against multiple murder charges, one of which is the murder of her white husband, Sam Keating. She starts off by saying "So, here's the truth about me. I've worn a mask every day of my life. In high school, it was a smile that I faked to get boys to like me. In law school, I changed my name to sound more in New England. At the law firm, I wore heels, makeup, and a wig. And when I got married, I threw myself into becoming a Keating and it was all to create a version of myself that the world would accept. But I am done."
What we have in "Bridgerton" is a treat, where masks come off. In this novella-like series, we have an opportunity to zone out through the characters who try to find hope and love not only in their own lives, but in humanity. It's just like what we're living through right now — at least I am — and highlights the possibilities of what we can have if we look a little deeper into the mirror and reflect on what truly matters. For me, that thing is love.
This article was originally published on