This Shoplifter Looks Exactly Like Ross And The Internet Has Jokes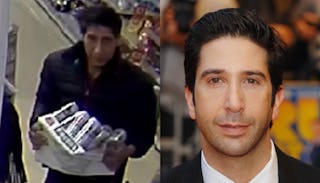 Image via Facebook/Blackpool Police/Rune Hellestad - Corbis / Contributor/Getty Images
Friends fans might recognize this man wanted for shoplifting in England
It's been 14 years since Friends ended its 10th and final season, and you might be wondering what the gang has been up to since then. Apparently, stealing beer in England if this hilarious viral Facebook post is any indication.
Police in Blackpool, U.K. posted a photo to social media of a man wanted on suspicion of shoplifting a case of beer. The photo went viral, not because the internet is full of good Samaritans who wanted to spread the word and help catch the guy. Nope, it was because he probably looks a little familiar to anyone who watched (or watches, bless up, Netflix) Friends.
You see it, right?
Yep, people noticed pretty quickly that the guy caught red-handed lifting beer is an absolute dead ringer for David Schwimmer, who played Ross Gellar on the hit show.
Guess no one told him life was gonna be this way. His job's a joke, he's broke – so broke, he apparently needs to steal his beer. Womp, womp.
Obviously, it isn't actually Schwimmer in the photo — police later confirmed he wasn't in the U.K. at the time of the crime.
But that didn't stop the internet from coming with all its jokes.
Seriously, so many jokes. From quotes from the show to riffs on its theme song lyrics.
And whoever left this masterpiece is someone we would never want to challenge to Friends Scene-It. Great work, Grace, but maybe turn off Friends and, we dunno, go outside or something.
But thankfully, hardcore fans needn't fear that David Schwimmer might actually somehow be implicated. He's already posted evidence of his clear innocence.
There haven't been any updates about this Ross Gellar impersonator posted to the Blackpool Police's social media pages, but with all the attention the post has been getting, someone's bound to recognize him soon. The lesson here is pretty clear: If you're a celebrity's doppelganger, you should probably avoid breaking the law.
This article was originally published on