Bombas Socks Are The Foolproof Father's Day Gift He'll Actually Appreciate
He'll wear them all the time.
by Andrea Gale Boerem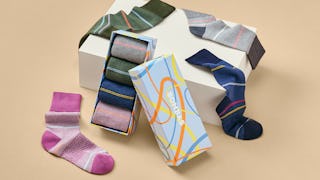 Bombas
We may receive a portion of sales if you purchase a product through a link in this article.
Socks don't have to be the boring Father's Day gift option; at least, not if the socks are from Bombas. The cult-favorite brand makes comfortable, performance-minded socks for every occasion, so you're sure to find something the dad in your life will be into. To make your shopping even easier, Bombas curated a selection of socks with Father's Day in mind, including gift packs in assorted designs and shaft lengths, all carefully thought-out to meet a variety of preferences.
All Bombas socks boast some signature design details, like honeycomb arch support, Y-stitched heels, and no irritating toe seam. But Bombas socks also have some activity-specific features: Think moisture-wicking fabric and airflow ventilation in their running socks, blister tabs in their ankle socks, golf socks with special under-toe ventilation to keep feet dry if he's spending all day on the green, and dress socks crafted from a material designed to lay smoothly under dress pants. Basically, you'll find socks designed to elevate whatever activity the dad in question might have planned for his day.
The brand is as beloved for its philanthropic efforts as it is for its high-quality socks: For every single pair of socks (or another garment) purchased, Bombas donates a pair to a community in need. Also nice? The brand has a 100% Happiness Guarantee that applies to gifts as well as purchases to make any exchanges or replacements simple.
Scroll on for a selection of the socks on offer in Bombas' Father's Day section. The dads in your life will thank you.
1. The 12-pack gift box
Restock the sock drawer of the dad in your life with this 12-pack gift box, which includes a mixture of calf socks and ankle socks in a few colors and patterns, all of which feature Bombas' signature honeycomb arch support and cushioned footbed, along with a seamless toe. The ankle socks include a blister tab, and the calf socks are crafted with Stay-Up Technology to help prevent any unwanted rubbing or sagging. Not only will he be getting some of the most comfortable socks on the market, a pack of 12 means he'll benefit from nearly two week's worth of clean socks.
Sizes: M — XL | Colors: 1 | Material: Supima® Cotton, Polyester, Nylon, Elastane
2. The 8-pack gift box
This gift box offers a full week's worth of everyday calf socks (plus one extra pair — you're welcome, Dad), conveniently packaged in a colorful gift box that doesn't even need to be wrapped. Every pair is in a different color, all of which are eminently wearable (like black, white, and maroon), and they all have a stay-in-place cuff that offers optimal tension and elasticity to help prevent any slippage.
Sizes: M — XL | Colors: 1 | Material: Cotton, Polyester, Elastodiene, Elastane
3. The 4-pack gift box
One more gift box worth considering, this option includes four pairs of Dress Calf Socks that have all the comfortable features of the brand's everyday calf socks (including a stay-put cuff), but they're made with a special flat-knit leg construction, designed to help the sock lay smoothly underneath dress pants. The subtle striped pattern offers a hint of personality, without going overboard — perfect for traditionalists and sartorial daredevils alike. Whether he goes into the office daily or has the occasional occasion, his sock drawer will benefit from this.
Sizes: M — XL | Colors: 1 | Material: Cotton, Polyester, Nylon, Elastane
4. The running ankle socks
If the dad you're shopping for happens to be a runner, consider this six-pack of Running Ankle Socks. Not only will he get nearly a full week's worth of socks, these are constructed to support a running practice, packed with running-specific features like strategic zone cushioning for support, airflow ventilation, and blister tabs. The brand's proprietary Hex Tec material is moisture-wicking to help keep feet dry, and they're extra lightweight to improve his workout.
Sizes: M — XL | Colors: 5 | Material: Polyester, Nylon, Cotton, Elastane
5. The golf socks
The Golf Quarter Socks are ideal for the golfers out there, but anyone who who's on their feet all day can benefit from their practical and comfortable features. Hex Tec regulates heat and helps wick away moisture — there's even an extra layer of ventilation underneath the toes — while a stay-up cuff prevents unwanted sock slippage. This three-pack is just enough to pad out his sock drawer without requiring too much re-jiggering. This quarter-height style will hit just above the ankle, but the brand also offers Golf Ankle Socks and Golf Calf Socks.
Sizes: M — XL | Colors: 4 | Material: Polyester, Nylon, Cotton, Elastane
6. The everyday ankle socks
Give dad the gift of time with this Ankle Sock 12-Pack; specifically, the gift of not having to wash his socks for nearly two weeks. These classic ankle socks are constructed with all the signature details Bombas is known for — like honeycomb arch support, a Y-stitched heel, and a seamless toe — and a blister tab to help feet feel supported and prevent any unwanted friction. A thoughtful and practical gift, they're the kind of socks he can comfortably wear all day, every day. Choose from six color and print options.
Sizes: M — XL | Colors: 6 | Material: Supima® Cotton, Polyester, Nylon, Elastane
This article was originally published on