To The People Who Love Our Kids Like Their Own
by Clint Edwards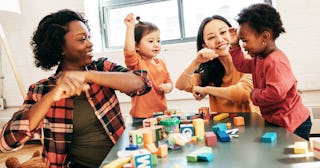 Weekend Images Inc./Getty
We live in rural Oregon, miles and miles away from our families in Utah and Idaho. We relocated because of a job, and we've been here for about 7 years now, just my wife and I with our three children.
I'll admit, being this far away from family does have its perks. No one regularly judges our house, or drops in unexpectedly with their drama, or whatever. But at the same time, we don't have the luxury of dropping our kids off with Grandma for a date, or to go to the store, or whatever. We are the only family in the state. No extended aunts or cousins. Nada. We don't have the extra little help that being around family can provide.
But we do have Susan.
Susan is in her late-50s, around the age of our parents, with grey hair and a warm smile. Her grown children are a little younger than us, and she has two grandchildren, but they all live far away. She works part-time, and her husband works full-time as a retail store manager. Her home has a surprising amount of pets, many of them animals I've never heard of.
We first met Susan at church; she was our son's Sunday school teacher when we moved in. I don't know exactly how it happened. I don't know what it was about our kids, or us, or any of it, but Susan basically adopted us.
When my wife was finishing her degree a few years ago, Susan watched our youngest three days a week so Mel could attend class. When we go on a date, we call Susan first. She attends our children's soccer games, and she shows up to their birthday parties. Every time she comes to the house, she brings some crafty something-or-other for the kids. She knows that my son is into Harry Potter, and my daughters are into My Little Pony, and it's not uncommon for her to pop in with a few gifts she found on sale.
Our kids love her. Our youngest turned five a few weeks ago. Mel told her she could invite five friends to her party because she was turning five, and the first person she invited was Susan. When we go to Tristan's games, he asks if I think Susan will be there, and I always say, "I have no doubt." They ask if she is going with us on family vacations and if she will be meeting us for dinner every time we go out.
She is, more or less, their adopted grandmother, and in so many ways she has become a part of our family. I know that there are a number of people reading this who have their own family they lean on, and listen, that's wonderful. But the reality is, we don't all have the luxury of living close to family. And it's only when you find yourself geographically isolated from the ones you love that you begin to really wonder how you will make it all work.
Then you find people, good people, in the world who look out for your child as if they were their own. Sometimes they are teachers. Other times they are coaches. They might be neighbors or youth leaders or Sunday school teachers.
They say it takes a village to raise a child, but at the same time, it can feel like there is no village sometimes. It can feel like everyone is judging one another for their mistakes or their messy house or their children's developmental struggles.
Honestly, I don't know what we would do without Susan helping us raise our children. I mean, I'm sure we'd figure it out, but we wouldn't have that extra set of hands. I don't know how Mel would have finished her degree, and I'm not sure how well our relationship would be without her watching our kids so we can actually spend some time enjoying a meal, with no one screaming in the background because we aren't having mac and cheese.
It can be pretty easy to focus on those negative aspects of raising children. And don't get me wrong, I enjoy complaining about my children just as much as the next person. But it's important for us to think about the Susans in our lives, because right there, that's where you will find the village. These are the people who want to help. And at times, when you feel all alone, in a place far away from family, or perhaps your family isn't all that interested in helping out, or perhaps it's dysfunctional or just not all that engaged, it's the Susans who make it manageable.
These are the people that can really show you and your family what honest love looks like. And we love them for it.
This article was originally published on