An Appreciation Post For The Awesome Dads (And Grandads)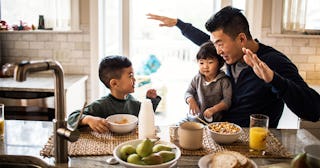 MoMo Productions/Getty
I hit a mailbox recently. Just clipped it with my sideview mirror. My first inclination was to call my dad. He'd know how to fix it.
Not only did he know what to do, he went out with my husband and did it. My father is what you might call a home-improvement genius. He can look at a problem and find a solution in minutes. Plumbing, mechanical or industrial, he never backs away from a challenge. He is still the go-to for all of his children's needs. And just like when we were kids, he's eager to help, never grumbling along the way.
My entire life, my dad would come home at night and microwave the plate of food my mother had left for him on the stove. He worked 60 hour weeks and never complained. Gone early in the morning and home late at night, that's just what he did. He was supporting a wife and four children and knew no other way than to be a hard-working provider. He loved his days off on Thursday. He would work around the house and often make dinner. I can still taste his fried potatoes and special pasta salad. They remain family favorites. In his later years, his day off became a day to drive carpool for his grandsons. It is his greatest treasure.
Even though my husband and I have been home since the pandemic, my oldest son insisted that his grandpa continue to pick him up from school one day a week. He takes his job as carpool director seriously and makes sure that he is the first one on the lot every week for afternoon pickup. He knows all of the latest gossip, who got what color that day, who had what for lunch, and what kid threw up in class — long before I find out anything. He drops everyone off promptly at 3:20 and returns home for his afternoon nap.
When we were kids, it was spelling words, math problems and flat tires. Now it's carpool, mailboxes and leaking sinks. I don't know what I would do without him. My father is quiet and he is kind. He is witty and he is smart. He is the best of the best, and I couldn't help but compare my suitors to that image of perfection.
They say you marry your father, and in my case, a lot of that is true. My husband's number one priority is working hard for his family. He is an entrepreneur who wanted to be out of the corporate world so that he could have snow days with his sons and drop them off at school in the morning. He treats our four-year-old daughter to "Cheeseburger Thursday" every week. She has been to more restaurants in our city than I have! And they always take a selfie to document the day.
But his flexibility comes at a sacrifice. He is up late into the night working. He spends weekends working. On holidays, he is working. Every day he is doing something so that he can provide the life that he wants his family to have. My father-in-law is an equally kind and hardworking man who instilled the value of hard work in his own son. I don't know that my kids have any idea how lucky they really are.
I wish that I had known when I was younger what all of my dad's hard work and sacrifice was really all about. When you become a parent, you begin to appreciate all that your parents have done for you. It is then your challenge to be that great parent yourself, and to know what you truly don't want to be. My sons are so blessed to have wonderful role models to follow. They have generations of good men to pattern their parenting after. I know that through these examples, someday they will rise to the occasion and will make their own dad – and grandpa — proud.