16 Shows To Add To Your Binge-Watch List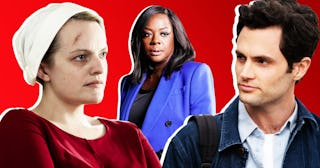 Scary Mommy, Hulu, Mitch Haaseth/ABC and Tyler Golden/Netflix
Right now is as good of time as any to cozy up on the sofa and binge-watch an entire series (or maybe even two). If you're anything like me, you might not trust your friend's and family's suggestions on what to watch (we all have our own particular taste, don't we?) More times than not, I'll give it a go, but if it hasn't sparked my interest within the first couple of episodes, to the "continue watching" thread it falls.
Don't worry, my fellow TV show snobs, this is a tried, tested and true list of the best shows to binge during your time of social distancing right now.
1. Altered Carbon
Set more than 300 years in the future, this Netflix series showcases a time when humans don't have to die at all. Instead, their entire being is placed inside a little piece of life-saving piece of technology called a "stack," where in the event of body-death, an individual can be spun back up again into a different "sleeve" (another human body) and continue living.
This sci-fi drama follows Tekashi Kovacs, one of the last survivors of a well-known group of fighters called the Envoys. After a body-death that happened centuries ago, Kovach is spun back up from the dark to provide a billionaire with a service, but not without a personal cost to himself.
2. The Handmaid's Tale
If you haven't watched it yet, my dear… You. Are. Missing. Out.
Drawn from the best selling novel by Margaret Atwood, this Hulu series captures what life might be like if infant mortality numbers rose significantly and pregnancies were rarely viable. For the fertile women in America (a place now known as "Gilead"), they would be cloaked in red, given the title of a handmaid, and forced to carry their "Commander" and "Missus" child to term while subject to unspeakable torment and abuse.
The series follows June (or as they call her in Gilead, Offred or Ofjoseph), a badass handmaid who will do just about anything to reunite her family once more. With her I'm-out-for-blood-stares and eagerness to destroy the patriarchy, she builds up a resistance to the "Christian" values her and thousands of women are chained to.
3. Vikings
Picture Game of Thrones, but without the dragons or that "what the fuck" ending… that is Vikings.
Given to us by the History Channel and found on Netflix, this series is highly impressive both in it's thrilling plot and it's historical accuracy. Based on real-world Vikings, Ragnar Lothbrok (played by the beautiful Travis Fimmel) and his lion's brood of many sons, viewers are taken alongside their endeavors as they raid, claim, and discover new villages, kingdoms, and countries.
With Katheryn Winnick starring as Ragnar's wife and the best "shield-maiden" of all Norway, Lagertha Lothbrok, this series — even with all of it's violence and gore — is sure to leave female viewers feeling empowered and begging for more.
4. Westworld
Set in the future, this HBO series tells the tale of an amusement park where it's star attraction is the makeup of lifelike robot "hosts." In a place called Westworld, where only the wealthiest can go, the robots live out their days in a western world, co-existing side-by-side with it's visitors who can do as they please with the park's hosts. At the end of the day, the robots lose their memory and are spun back up to replay over and over again. But when you build something as technologically advanced as these hosts, subjecting them to sometimes-daily abuse, it's only a matter of time before they start to catch on and seek revenge on the outside world.
5. Hart of Dixie
If you're looking for something light to watch while folding laundry, doing the dishes, or disinfecting your house for the umpteenth time, Hart of Dixie is for you.
Fast-talking New Yorker and surgeon Dr. Zoe Hart has her life all planned out. After graduating at the top of her medical class, her hopes are to follow in her father's footsteps and become a cardiothoracic surgeon. But when she finds herself down on her luck, she accepts an offer from a total stranger, Dr. Harley Wilkes, in the fictional town of Bluebell, Alabama as a general practitioner instead. Needless to say, things don't go as planned for Zoe.
6. Nurse Jackie
Trigger warning: Nurse Jackie contains scenes that may be triggering to those recovering from addiction.
Long-standing emergency room nurse and mother of two Jackie Peyton (Edie Falco) fights tooth and nail for her patients while dealing with a healthcare system that is crumbling. To new nurses entering "her ER," much like Zoey Barkow (Merritt Wever) they look at her like she is some sort of god. I mean, how does she do it? Little do they know, she relies on doses of Vicodin, Percocet and Adderall to get her through it all.
7. Grey's Anatomy
If you started this series now, you probably wouldn't be done with it by the time the coronavirus finally starts to leave our country and homes. With 20+ episodes per season and 16 seasons so far, Grey's Anatomy has days-on-days of binge-worthy content for you to enjoy.
Follow the talented and emotionally-scarred Meredith Grey, daughter to award-winning surgeon Ellis Grey, and her team of colleagues as they journey their way through residency at Seattle Grace Hospital where everything from medical mysteries, mass shootings, heated on-call room hookups, and failed relationships can be found.
You'll laugh, you'll cry, and you'll laugh while you cry. Let's just say, there is a reason this series has been around for more than a decade.
8. Game of Thrones
It's likely that you've heard some controversial opinions on the last season of Game of Thrones. In my opinion, they should have taken their time with it and expanded the series across at least two more seasons. But even if I'm not overly thrilled with the way things ended, it doesn't negate the fact that Game of Thrones is probably the most well-done series to date.
Based on the novels written by George R.R. Martin, this HBO series follows nine royal families as they duel it out over the throne of the seven kingdoms of Westeros. But while some have their heart and minds set on being the ultimate ruler of the Iron Throne, an ancient and mystical force at work arises to take back it's homeland.
There's sex, dragons, and war. Not to mention, the CGI in this series is beautifully done. According to a USA Today report, out of Comcast's 22+ million subscribers, Game of Thrones was the most watched on demand show for 2018.
9. Silicon Valley
Another one brought to us by HBO, Silicon Valley is an American Comedy that takes us alongside a team of coders as they found a startup tech company. Following Richard Hendricks creation of an app known as Pied Paper, we watch as he and four other misfits of the Valley find their footing in the ever-changing and evolving world of tech.
The Hubs and I just started watching this a week or so ago, and we only have a couple more seasons until we've watched it start to finish. Dare I say it, this series is ridiculously witty and funny.
10. How To Get Away With Murder
This was one I was skeptical about, but as with most series I come to know and love, after watching an episode or two, I had to ask myself what in the wide world I was waiting for. Found on Netflix, How To Get Away With Murder takes you into the lives of a group of law students as they take on an internship with one of the best defense attorneys and law professors around, Annalise Keating (the wonderfully brilliant Viola Davis who you might recognize from The Help's Aibileen Clark).
11. Parenthood
Much like Hart of Dixie, Parenthood warms your heart with that "close to home" feeling. Telling the stories of the Braverman clan, this series shows the good, the bad, and the ugly of raising children from infancy to adulthood in this modern world, where nothing is too controversial to tackle.
12. Breaking Bad
After chemistry teacher Walter White is diagnosed with terminal lung cancer, he turns to a prior student, Jesse Pinkman (the gorgeous Aaron Paul), to obtain the recipe for methamphetamine. Together, they create some of the purest drugs on the market. For White, it's so he may leave his pregnant wife and son enough money for them to get them through. For Pinkman, it's just another run-of-the-mill day of selling drugs.
13. You
I see you. Yes, you. The one who still hasn't shown much interest in this seriously addicting, yet oh so messed up, show. We can't have that, so I'm going to change it… for both of us, you see — that's what the psychopath main character from this series would be telling you right now.
Following the charming and deceitful book-seller Joe Goldberg (Penn Badgley), and based off of the You book series written by Caroline Kepnes, viewers can shadow the joyrides of a passionate serial killer as he navigates his way through and out of obsessive love.
14. The Sinner
I accidentally started watching this series on the second season first, and I had no idea until I was done with the series and went to look for more to watch. That being said, the different seasons of this show can be watched in any order, but make sure to watch the episodes in that season chronologically.
In the first season, you follow Cora (Jessica Biel), an average, run-down mother and wife who commits a heinous act out of instinct, with no reasoning for it at all. Unlike most detectives, the detective assigned to her case, Harry Ambrose (Billy Pullman) doesn't call this case a "slam dunk" for the prosecution, but instead, he looks for the reasoning behind Cora's act to lessen her sentence. Harry Ambrose then works a second case in the following season where he seeks evidence of a child's innocence after being accused of murder.
The Sinner can be found on Netflix.
15. Peaky Blinders
After the despair of the Great War, the greatest gang of all time, the Peaky Blinders, run by Thomas Shelby and his slew of family members, seeks a greater ambition beyond running the streets of Britain.
With some gambling, law-breaking, guns, and a whole lot of money, viewers follow the Peaky Blinders as they aim for legitimacy in startup companies. Because, let's face it, crime may fill their pockets, but businesses will overflow them.
16. Shameless
It's rotten, it's funny, it should be R-rated… it's Shameless.
Brought to us by Showtime, this series shows us a south-side Chicago family of six who is raised by their oldest sister Fiona, who cheats and scams the streets with her oldest brothers to provide for their siblings. Just when you think things couldn't get any more, well… shameless, the scandal continues to grow alongside the family.
Pearl-clutchers, this is not the show for you.
From someone who is picky about what I do and don't watch, this list of series is sure to have you staying up until 2 a.m. lying to yourself, "Just. One. More. Episode."
This article was originally published on