This Ode To The 'Hot Mess Mom' Will Make You Feel So Seen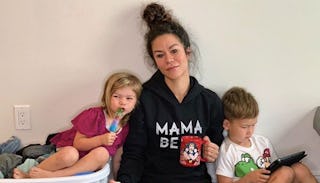 Image via Sia Cooper
Sia Cooper gets real about being a "hot mess mom"
Parenting is hard work. I don't care who you are, how much help you have, or what stage your child is in. It's an all-consuming, never-ending job and more often than not, we are judged on the things we are doing wrong instead of the things we manage to get right. One mom perfectly captured this while giving us an honest look into her struggles and insecurities — ones that will sound exactly like your own.
"What is up with this crazy idea that moms have to be made up, have a spotless house, have dinner on the table at 5pm, and raise well behaved, organically fed kids? Because of this unrealistic stigma, we are left feeling like a hot mess," mom-of-two, Sia Cooper, shared. "Cue mom-shaming."
Cooper, writer and nurse turned-NASM certified personal trainer who runs the popular Instagram account and Facebook page Diary of a Fit Mommy, continued a list of confessions that sounds like a page from a book out of most parent's lives. "I cried 3 or 4 times last week after staying home with my sick kids," she writes. "The laundry pile hardly ever moves and sometimes I will grab clean clothes from the dryer because I haven't folded it yet. Depression and anxiety tell me that I'm not a good mother, but I take pills daily to fight this."
She continues, "Sometimes my kids eat popsicles at 8am because it's not worth the battle. Sometimes I'm just too tired to even think about sex with my husband. My house looks like I'm losing a game of Jumanji."
Sounds familiar, right?
Cooper tells Scary Mommy she felt the need to post this publicly because we are constantly inundated with images of moms who seem to have it all together. "It can leave us feeling inadequate," she said. "We feel like we cannot relate to them so we feel inferior; therefore, we suffer in silence wondering what the hell we are doing wrong here. No mom REALLY wants to admit they don't have it all figured out because it is viewed as a weakness."
"More often than not, I feel like I'm failing as a mom," Cooper continued in her post. "But you know what? Kids won't remember that big stack of dishes or the dirty floors but they WILL remember you giving a damn about them making sure they're fed-even if it's just macaroni and chicken nuggets-warm, safe, wanted, and content."
https://www.instagram.com/p/BroPLqolYPk/
Cooper says she hopes her post makes other moms know they aren't the only ones struggling, that we aren't alone. "Motherhood is a struggle that we often do not see, especially on social media. Some moms need to be reminded that they are doing the best that they can and there is no need for comparison because we all do what is best for our families in the end."
Amen to that.