Sia Casually Pays Everyone's Bills At Walmart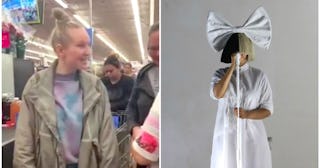 Twitter/Getty/Dave Simpson/WireImage
Sia pays everyone's grocery bill at Walmart after lying about her identity and claiming she just won the lottery
The singer Sia stopped by a Walmart and a TJ Maxx in Palm Springs, Ca on Wednesday, November 27, 2019, and went register by register, paying everyone's pre-Thanksgiving grocery bills. Sia, the woman behind songs like "Chandelier" and "Elastic Heart" is pretty unrecognizable because she always performs in her signature oversized blonde wig that obscures her face, so when she paid off unsuspecting customers grocery bills as a random act of kindness, very few people knew who she was.
Palm Springs is an affordable desert city about three hours outside Los Angeles, where a lot of celebrities (including Sia) tend to have second homes. Because nobody knew who she was, KESQ reported that the singer told people her name was "Cici" and that she had just won the lottery and wanted to pay it forward. When one fan recognized her and asked to take a photo with her, Sia shrugged and said, "Sure, I'm Cici." The shopper apologized for revealing Sia's identity, but felt that the singer's "kindness must be acknowledged."
"So @Sia paid for my groceries today thank you so much!!" one Twitter user wrote. "The heart and beautiful soul you have for paying for everyone!! I'm sorry for telling everyone once I realized who you were !! But this kindness must be acknowledged!!!"
After that, everyone wanted a photo with the generous singer.
https://www.instagram.com/p/B5fk_R-l2pN/
In the videos that surfaced online, Sia is seen casually floating through the Walmart, asking people, "Who's next?" and then swiping her card.
In one video, Sia hugs a woman while another hands her a bouquet of flowers to thank her for her kindness. KESQ reported that Sia was also spotted doing the same thing at a TJ Maxx in the Palm Springs area and one person told the news outlet that they had no idea who she was and only learned her identity after googling photos of her online.
"Met the most beautiful and positive human ever yesterday," wrote one grateful shopper. "Sia literally has no idea of how much she's helped me with life."
As for the mysterious singer, she's yet to comment on her lovely display of generosity at Thanksgiving.
Thank you to Sia for this beautiful reminder that it's always a great time to pay it forward.
This article was originally published on