Sibling Trolls Thief Who Stole Sister's Phone, Hilarity Ensues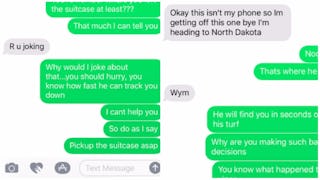 Image via Imgur
They pulled an epic prank
What nice thing has your brother or sister done for you lately? We're willing to bet nothing as incredible as what this sibling did for their sister when some jerk stole her phone.
Imgur user thelowflyingowl shared images of texts exchanged between them and the person who either found or stole their sister's phone.
They write:
"My little sister, who is going to be a senior, worked hard all summer to buy an iPhone, only to have it stolen (or fall out, she is still not entirely sure) out of her boyfriends car a week ago. She had not activated the find my iphone app so we reported it stolen but were pretty sure someone was just being gifted a free iphone courtesy of my sister's summer wages. On top of that, she had also bought a wallet case and lost all her ID's and cards as well."
Ugh. Losing your phone or having it stolen are both next-level stressful events, but on top of that, she's just a kid and worked her butt off to buy the damn thing in the first place. Sibling revenge plan: activate.
"So yesterday I get this text from a strange number. I give my sister a quick call to make sure it is not her and effectively realize someone is fishing through her contacts or documents to get her password. I am well aware after the WTH that his is not my sister BTW."
They write, "I was bored so I say to myself, why not have some fun. We will never get the phone back, but what the heck, might as well kill some time."
And boy did they ever.
So this hero sibling decides to string the phone thief along in a little game of You're Part Of The Mob Now. Oh, and The Boss? He's a temperamental drunk.
They concoct a scenario involving a suitcase full of cash and a scary bad guy hot on their tail. The best part? It works.
The user explains that they figured the phone burglar's stubborn insistence on getting the password means it will be a "lengthy" exchange, but as it turned out, it didn't take too many pretend mob tidbits to scare them off.
They're literally ready to flee at this point, because who the hell wants to end up like Vince? They've got to get to any state where "The Boss " won't be.
And now, they have to run from a character named "Avery" too? It's all too much.
So the password fisher ends up giving in. And this teen got some fantastic news.
"My sister got an email this morning. I have peaked," they write.
Looks like someone was a little terrified.
SUCCESS.
Moral of the story? Aside from being very careful where you leave your phone, don't mess with a determined and loving sibling. They. Will. Hunt. You. Down.
This article was originally published on