Three Siblings Were Hit By A Truck And Killed While Boarding Their Bus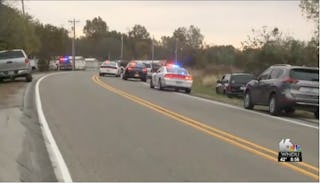 Image via WNDU News
Three kids hit and killed by a truck at their bus stop were reportedly siblings
Three kids were killed today, and another was seriously injured, when a truck reportedly crashed into them as they were waiting to board their school bus. News reports now reveal the heartbreaking detail that all three of the kids killed were siblings from the same family, six-year-old twin boys Xzavier and Mason Ingle and their nine-year-old sister Alivia Stahl, according to WNDU News.
Police say the crash happened at around 7:30 a.m. this morning in Rochester, a town near Fort Wayne, Indiana. The kids, all students at Mentone Elementary, were at their bus stop in a rural area of town when tragedy struck. WSBT News reports that the bus had its arm out and the kids were crossing the street to board when the pick-up driver failed to stop. Aerial footage from the scene show the bus and a brown pickup truck nearby with a lot of damage to its front end.
The injured child is 11-year-old Maverik Lowe and he was reportedly airlifted to a hospital in Fort Wayne. He has multiple broken bones and other injuries.
So far, police don't know if the pick-up driver, 24-year-old Alyssa Shepherd, was speeding. Police also report that although they haven't found evidence of Shepherd having used drugs or alcohol, she will undergo a blood test as part of the investigation. The bus driver, according to police, did everything he or she should've done when it comes to protocol for kids boarding a school bus.
Above all, police are indicating that the crash scene is simply one of the worst they've ever responded to. "I just can't imagine that pain," said Sgt. Tony Slocum of the Indiana State Police. "I haven't seen troopers cry in a long time, but I saw that today," he says. "Our hearts just break for him and his family and it's just a terrible situation we're having to deal with," he said, referring to Lowe. "But we'll do the best we can and our prayers go out to those family members."
In the hours after news broke of the accident, the local school district, Tippecanoe Calley School Corporation, released a statement on social media.
"Our school corporation has suffered a tragedy this morning. We have learned of three student fatalities and one student seriously injured and airlifted to a Fort Wayne hospital as they were hit by a vehicle while boarding their bus," the statement read. "We have deployed all school counselors to meet the emotional needs of our staff, students and parents," the school wrote on Facebook. "We are awaiting to learn more confirmed details but wish to ask the community to come together to pray for the families, our students and our staff."
Our hearts go out to the families and community.
This article was originally published on