These Products Are Must-Haves If Your Kids Have Been Sick All Winter
by Cassandra Stone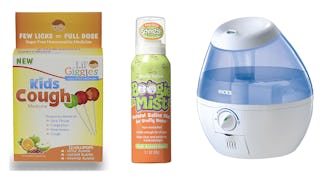 Images via Amazon
These products are must-haves for every germ-infested house with kids
Welcome to the Never-Ending Winter phase of the year, where we're all extremely over it and ready for spring, but the weather isn't quite cooperating yet. It's also that lovely time of year where, because the weather is gearing up for a big change for many of us, our children get sick. Again. For the 500th time.
Which is why we've compiled this hodge-podge of must-have products to help your little ones when they're not feeling well. And many of them pull double-duty to ensure the rest of your family doesn't succumb to The Plague™ before springtime.
While this little contraption is easiest to use on babies (because they don't fight you), it's a literal DREAM for any parent who can't keep wiping their kids' noses every 0.5 seconds. You suck the snot out of your kiddo's nose (and no, it definitely doesn't get into your mouth, I PROMISE) and everyone feels more satisfied when it's over. (File this under Things I'd Never Thought I'd Do But Will Desperately Do Now That I Have A Congested Child.)
Have you ever been snuggling your sick kid and thought to yourself, "I just need to grab that booger RIGHT NOW"? Well you're not alone. Also? The OogieBear is made for you. It's gentle, effective, and the best way to, well, get in there for little tiny nostrils and ears.
Do you need these over regular tissues to wipe noses? Yes, yes you do. They're gentle, they smell nice, and your kid's nose won't get chapped or sore from constant wiping.
If you're looking to break up the boogers and help your helpless little one breathe better, look no further than Boogie Mist. It absolutely works and in my experience, kids get a kick out of you spraying something up their nose. Because of course they do.
For the car. For the house. For the plane. For…any occasion, really, because kids throw up anytime, anywhere. And since you can't always have a bucket handy, disposable vomit bags are where it's at.
You can't exactly trust young children with a cough drop. They're a choking hazard for little ones and if you've got a big kid, they'll either avoid them completely or chew them immediately, therefore rendering them ineffective. Behold: medicated lollipops! A perfect solution for sore throats, coughs, and congestion for kids who love treats.
Fevers can be so hugely uncomfortable, especially for kids who don't understand why they're so hot and achy. These soft gel sheets provide a cooling effect to your kiddo's forehead to help relieve discomfort. Plus, they've got Disney characters on them — win/win.
A humidifier might seem like a no-brainer to have on-hand when someone in your house is sick, but this cool mist humidifier is wonderful. Instead of warm, humid air filling up the bedroom, this one provides a cooling effect that makes it easier to breathe. Plus you can adjust the settings for how powerful you want it to do its thing.
This hand sanitizer is perfect for on-the-go or anywhere in your house. It's alcohol-free and effective! With this six-pack you can keep some in your purse, in your kid's playroom, in the car, and some in the closet for backup.
When all else fails, you know you can rely on Clorox to kill germs and clean up any sick-related grossness. Sure, white vinegar and essential oils can be great — but they're no match for Clorox, #sorrynotsorry. This gigantic container holds 105 wipes, so sickness is no match for it.
No, this surely isn't for your sick little germ factory. This one is for YOU. The parent who has been relentlessly getting up and down for tissues, popsicles, hand-washing, mess-cleaning, temperature-taking, pediatrician's office visits, and the like. Winters feel even longer when your kids are sick, so pour a whole bottle of wine in this baby and treat yoself at the end of the day.
Hang in there, moms and dads — we're almost through the worst of the Sick Season. In the meantime, take advantage of these products to get your house germ-free in time for spring.
We may earn fees from purchases made via links on this page and affiliated sites. All opinions are our own.
This article was originally published on