Heartbreaking Ad Shows The Strength Of Moms Caring For Sick Kids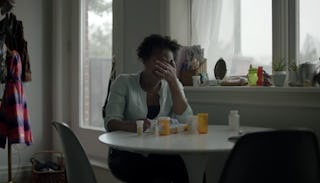 Image via YouTube
The SickKids Foundation released an ad in honor of Mother's Day
As a parent, there's no worse thought than your child being ill, but when the unthinkable occurs, moms step up to stay strong for their kids. In honor of Mother's Day, a heart-wrenching ad captures that reality, showing mothers of sick kids having their moment to break down before returning to their child's side.
The ad comes from the SickKids Foundation, a non-profit that raises funds for child health, research and care.
The commercial is nearly impossible to get through without sobbing and according to The Huffington Post, features both actors and real moms of sick children.
The SickKids website reads, "For every kid in hospital who's missing childhood, there's a mom staying strong." Chances are, no one thinks about what it takes for her to do so. That's what makes this ad so heart-breaking. And eye-opening.
We see a mom choking back sobs, another in her baby's room, alone. One is at church praying while another patiently listens to a nurse's instructions on how to care for her sick infant. They sleep at home while their child sleeps in a hospital. They burst into tears in the middle of a jog and weep as the shower water hits them.
They keep doing laundry and counting pills and living life, but every now and then, they let the full brunt of their difficult reality hit them. One mom angrily shouts in her car, pounding the steering wheel and asking why, why her baby?
Then, the crying stops. The ad shows the women pulling themselves together, one by one. They wipe their tears, whisper affirmations — "she's gonna get through it" — and will themselves out of bed. If you're not a complete puddle of tears by now, you're not paying attention.
Everyone marvels at the strength of moms who care for their sick kids. We see it all the time in Facebook comments sections — "you're so brave!" and "she's so lucky to have you advocating for her!". This ad shows the other side of it. The private face of the unfathomably tough mother who does all she can to be a source of strength for her kid, but also needs to let her own fears and grief swallow her whole every now and then.
The ad is striking a chord with parents, but in particular, the ones who have been there. Comments such as, "this ad brings it all back" and "I understand this all too well" are flooding Facebook. This is life for so many moms, and it's a tragic and unfair reality that simply shouldn't be.
That's why SickKids is raising funds to keep children healthy and out of the hospital. There are multiple ways to donate to the cause on their website and help families from having to suffer through the horror of a sick child. You can give a Mother's Day package to the mom of a sick little one or even buy a gift for a child who isn't sick with proceeds going toward SickKids. There are also options for recurring donations and the choice to put your money toward supporting SickKids fundraisers.
SickKids sums it up best; "This Mother's Day, stand with moms who stay #SickKidsMomStrong. And help their kids get back to just being kids."
Yes. Let's do exactly that.