This Amazing ASL Interpreter Stole The Show (And You Have To See It)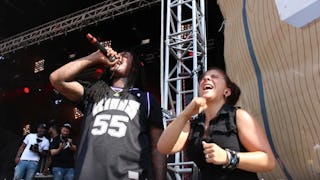 SignTheShow / Facebook
If you've ever been to a concert or music festival, you know a lot of things can go down onstage. A lot. But one thing I have never seen, onstage or off, is a sign language interpreter.
I've attended dozens of concerts, in multiple states, and I have never, ever seen a sign language interpreter.
At least not until now — not until I saw Sign the Show's now viral Facebook video. But now that I have seen it, I am wondering: What the hell took so long? Why haven't I seen this before?
You see, earlier this month, Sign the Show shared a video on their page which showcased DJ Whoo Kid, Waka Flocka Flame, and an ASL interpreter. An amazing rapping, signing ASL interpreter. And while the clip features part of DJ Whoo Kid and Waka Flocka's amazing Firefly Music Festival performance (held June 15–18 in Dover, Delaware), the star of the video was — and is — sign language interpreter Holly Maniatty. Because Maniatty didn't just make their music accessible to deaf fans, she did so with heart, soul, energy, and a hell of a lot of enthusiasm.
So much enthusiasm, in fact, that Waka Flocka was inspired to jump off stage to sing, rap, and dance beside her.
But Maniatty's actions weren't spontaneous or random or part of some strange, one-off stunt. Instead, they were part of Sign the Show, executive producer and director Cat Brewer's brilliant project/documentary which is working hard to raise awareness and fight discrimination those in the deaf community face, particularly in/at live entertainment venues:
Sign the Show "illustrates the challenges Deaf individuals face when trying to access live entertainment with a focus on music, comedy, and theatre." What's more, according to the project's GoFundMe campaign, Sign the Show doesn't just want to "provide awareness," they want to help level the playing field and give those in the deaf […] communities "the exact same access to entertainment […] hearing people have had all along."
But how does Brewer plan to accomplish this goal? Through entertainment and education. Through the internet and exposure, and by working with and speaking to "deaf individuals, sign language interpreters, musicians and comedians including Nyle DiMarco, Steve Longo, Treshelle Edmonds, Joshua Castille, Amber Galloway Gallegos, Keelin Lambert, Odie Ashford, Kelly Clarkson, Tony! Toni! Tone!, Train, Grace Potter, AWOLNation, X Ambassadors, JoDee Messina, Young the Giant, Eddie Money, Al B. Sure!, D.L. Hughley, Jay Mohr, Aisha Tyler, Ben Gleib, Sinbad, Sarah Colonna and many more."
And I've got to be honest with you: I love everything about this project. So if you, like me, want to learn more about Brewer, Sign the Show, and/or how you can help, visit their official website or check out their GoFundMe campaign.