This 'Signing Day' Celebrates Teens Who Are Skipping College For Full-Time Work
by Thea Glassman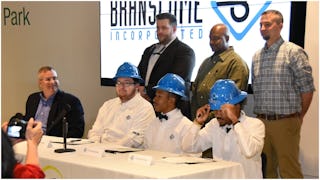 Image via Henrico County Public Schools
This "signing day" celebrates high school students who are skipping college for a full-time job
There's something really innovative happening at a public high school in Virginia. Students who are opting out of college in favor of full-time employment received their very own day of celebration, courtesy of school officials. The teens are being acknowledged for landing an achievement that's just as important as college acceptance — which is an incredibly thoughtful, affirming idea.
Henrico Schools' Career and Technical Education program honored teens who are going right into the workforce with a "signing day," modeled after the celebration that student athletes receive when they're accepted into athletic programs.
"In recent years, it's become a common sight: heralded high school athletes gather in gyms to sign letters-of-intent to play for NCAA athletic programs, as their classmates cheer and members of the media look on," the school's Facebook post explained. "Henrico Schools' Career and Technical Education program decided that athletes weren't the only ones who deserved to have their hard work recognized as they look to the future."
The teens rocked apparel from their future employers and were joined by family and members of the media. It was both a chance to celebrate all their exciting successes and an important reminder that college isn't the only option after graduation. In fact — in some ways — a full-time job actually offers a whole lot more exciting benefits for a young adult. You know, like not being saddled with future debt and having an immediate disposable income.
"We're always trying to figure out how to address the skills gap when the general mentality of parents is 'I want my child to go to college,'" Mac Beaton, director of Henrico County Public Schools' Certified and Technical Education program, told The Today Show. "One way to do this is to help them see the value of career and technical education. When you start talking data that affects parents' pocketbooks, that gets their attention."
Speaking of pocketbooks, each student received a letter of intent from their employer, which outlined how much they will be paid in income and training, along with their position's estimated value.
"How many parents can say, 'My child has full health insurance, two weeks of paid vacation, and will be making $40,000 a year' when they are graduating from high school?" Beaton noted.
Yup. Sounds a whole lot cushier than where I was post-college graduation. Lots and lots of applause to these students for getting right to work and many snaps to the Henrico school system for celebrating their efforts.