4 Silver Linings To Having Gestational Diabetes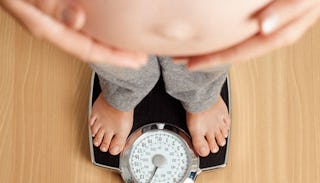 After crying to my husband and family for the days after my diagnosis, I blamed myself for having Gestational Diabetes. I told myself that it was because I had gotten too fat and used Google to freak myself out about giant needles, giant babies and giant food restrictions.
By the second baby (and my second run with GD), I took it all in stride and didn't bat an eyelash, because I knew that it wasn't nearly the beast I had made it out to be the first go-round. Let me save you the humiliation of crying through your first appointment by sharing some positives about this pesky diagnosis…
1. It Makes You Stronger – Before GD, I was about a 9 and a half on the wuss-o-meter and had never changed a diaper. 12 weeks later, I was pricking my husband's finger to compare blood sugars for fun (lucky him), and pretty sure I could handle anything that baby threw at me. Seriously, there is a confidence and assurance that comes with stepping up to the plate on this one, and conquering any fears you have about drawing blood. If I can do it, you can do it better.
2. Needles Are Not As Bad As You Think – And this is coming from someone who has fainted more than once at Virginia Blood Donor Services (see #2 > wuss-o-meter). By the time I checked blood sugar 4 times a day, and gave myself once daily insulin shots, it really did become a non-issue. I actually started to enjoy seeing how various foods affected my blood sugar and documenting it all on a little table for the doc. It was all I could do not to throw that junk into a spreadsheet and chart it with color coding (because that is what nesting ladies do).
3. You will Get Special Treatment – Since I was on insulin at the end of my first pregnancy (despite following that diet to a tee), I went in for weekly stress monitoring sessions, where I basically got hooked up to a monitor and rested for an hour while they watched for any irregularities with the baby's heartbeat. This got me much more familiar with the hospital triage and contraction monitors than I would have been otherwise, and gave me something to look forward to during the countdown of those final weeks. What soon-to-be-new-mom doesn't like an hour to herself to read her Us Weekly while listening her baby's soothing heartbeat?
4. You Will Be Healthier – I ate my veggies through the first two thirds of my first pregnancy, but I also ate boxed macaroni and cheese, milkshakes and the occasional oatmeal cream pie (and by occasional, I mean hourly). The GD diet caused me to not only reign it in, but to be super healthy and increase those walks that I hadn't been taking as often as I should have. I actually lost weight at the end of my first pregnancy (don't fret, I had built up enough reserves that no doctors were concerned in this process), and bounced back to my pre-baby weight in 2 weeks after delivery. I am certain that this would not have been the case had I spiraled farther into oatmeal-cream-pie-land for the remaining 12 weeks. I'm not saying that my pre-baby body was something to aspire to for the average woman, but it was for me!
If you have already shed tears in front of your endocrinologist, don't worry, they have seen it before. I could tell when the nurse hugged me and my usually gruff doctor gave me a well-practiced speech about why it wasn't my fault. I promise you, it isn't as bad as you think and there are lots of us out there. Get it out of your system if you have to, and remember that your endocrinologist is your friend. Little Debbie – is not.
Related post: The Six Stages of Pregnancy
This article was originally published on