11-Year-Old Cancer Survivor Bullied For Being Sick Got Simon Cowell's Golden Buzzer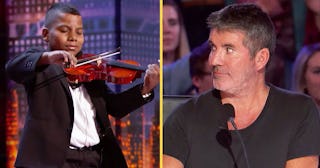 NBC
Simon Cowell sent a message to this 11-year-old cancer survivor's bullies on America's Got Talent
Simon Cowell is no stranger to making a grown woman cry. The famously harsh American Idol and America's Got Talent judge is… prickly, to put it lightly. But watch the video below and he's guaranteed to make you sob for a completely unexpected reason. Seriously, do not proceed until a box of tissues is within reach.
That's 11-year-old Tyler Butler-Figueroa, who auditioned for America's Got Talent by playing his violin. He also shared his story, which included being diagnosed with leukemia when he was four, almost dying, and then being relentlessly bullied by his classmates for having cancer. No, we're not kidding. These kids made fun of him for losing his hair during chemo and spread rumors that his cancer was contagious. Little Tyler had to deal with that awfulness while he was literally fighting for his life. All of those kids deserve to have their shins kicked and I hope they know that.
Anyway. In the video, Tyler says that he started taking violin lessons after school to cope with the awful bullying he endured. It became an outlet, and he discovered that he's really, really freaking talented.
"I just didn't want to be the kid with cancer, so now, I'm the kid who plays violin," he said.
For his audition, Tyler appropriately played Kelly Clarkson's "Stronger (What Doesn't Kill You)," and not only is he flawless at the violin, his performance included dancing onstage in light up sneakers. Needless to say, everyone watching was all smiles, including us at home. And also including the famously prickly Simon Cowell.
After Tyler's performance, Simon had some words.
First, he asked Tyler how he's feeling now.
"I'm feeling really proud of myself," Tyler responded, through tears.
The crowd went wild cheering for that, and a moment later, Simon clarified, asking Tyler how his health is now. Turns out, he's been in remission for almost four years. Not only did this kid stand up to a particularly cruel brand of bullying and learn to be an excellent violinist, but he beat cancer at the same time.
"We hear too many stories about people being bullied, but I can tell you one thing: most people are bullied because they're better than the people who bully them," Simon said. "I would like to say something on your behalf to the bullies."
That's when Simon hit the Golden Buzzer, which gives Tyler a pass through all the rest of the auditions and lands him an automatic spot in the America's Got Talent live show in Hollywood. As Tyler and his mom, both in tears, hugged onstage, Simon joined them. Are you crying yet? Because we're crying.
All we can say is, Simon Cowell made the right choice. This kid is destined for truly great things, and we're excited to see where he goes.