Parents Everywhere Can Relate To Dad's Painfully Honest Instagram Account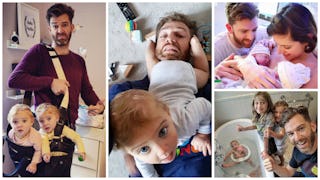 Image via Instagram
London dad shares honest photos of life with four kids
Simon Hooper lives in London with his wife Clementine and four daughters, all under ten years old. His life his hectic and harried, and he shares it all via his hilarious Instagram account, father_of_daughters.
According to The Huffington Post, Hooper, whose wife documents their misadventures on her own mother_of_daughters Instagram account, admits that he shares the truth in an effort to be as realistic as possible about the challenges of parenting.
"In general my whole account is to show a realistic view of what parenting is like from a parent's perspective," he told HuffPost. "There is way too much sugarcoating when it comes to parents, so I wanted to share what it's really like and provide a bit of humor at the same time." I couldn't agree more.
His pictures do a great job of showcasing the trials and tribulations of raising four young kids.
Hooper, an operations director for a U.S.-based management consultancy firm, explains that despite the fact that he and his wife also just had twins, adding the newborns to a family that already featured a 9-year-old and a 6-year-old, they aren't any different than most other parents.
"Everyone is dealing with the same issues in this journey called parenting."
Hooper is right, of course. Whether you have one kid, two kids, four kids or are an aspiring Duggar, parenting is a messy, stressful, nightmarish journey that requires a strong commitment and an even stronger sense of humor. The Hoopers appear to have all of that, particularly that last one, in spades.
Thank goodness for that. Because with four daughters under ten, they're going to need it. And judging by the more than 180,000 followers Simon has, the rest of us need it too.
This article was originally published on