It Only Took Simone Biles 8 Words To School Everyone About Adoption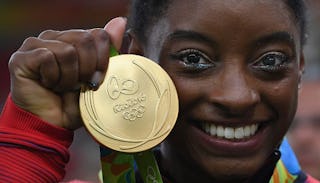 Image via Laurence Griffiths/Getty Images
Simone Biles shuts down commentator who made ignorant remarks about her parents
Earlier this week, NBC gymnastics commentator and all-around douche Al Trautwig was called out for refusing to acknowledge that Olympic gymnastics phenom Simone Biles' adoptive parents were actually her parents. And now, Biles herself has spoken. And it only took her eight words to set things straight.
Simone Biles is quite possibly having her best week ever. The 19-year-old gymnast has two gold medals to her name so far, and could earn another three before the Rio games are over. However, it hasn't all been sunshine and roses as Biles had to answer to the ridiculous comments by Trautwig.
It started with his commentary on-air where he said that Biles "was raised by her grandfather and his wife and she calls them mom and dad."
Um, nope. Try again, Al.
Al did try again, this time on Twitter, where he doubled down on his stupid remark in a now-deleted tweet. In response to a viewer's criticism of his comment he said, "They may be mom and dad but they are NOT her parents."
Holy shit, Al. Maybe stop talking for a little while. Evaluate things.
Many clapped back at Trautwig's ignorant and thoughtless remark including Biles' coach Aimee Boorman, other parents by adoption and several angry Twitter users.
As it turned out, we only needed to hear from Biles herself for the last word on the subject. In an interview with US Weekly, the teen says, "I personally don't have a comment. My parents are my parents and that's it."
[shareable_quote]"My parents are my parents and that's it."[/shareable_quote]
Boom. She's as tight with her words as she is with her gymnastics skills, sticking that response to Trautwig like she sticks the landing on her signature flip.
The gymnast has spoken before about her family explaining that her maternal grandfather Ron Biles and his wife Nellie adopted Biles and her sister out of foster care 15 years ago. She says they're her parents. And that's literally all anyone needs to know.
Trautwig did eventually apologize through a statement after NBC forced him to delete his tweets. "I regret that I wasn't more clear in my wording on the air. I compounded the error on Twitter, which I quickly corrected. To set the record straight, Ron and Nellie are Simone's parents."
Hopefully, Biles has already moved on from this ridiculousness so she can focus on winning a bunch of gold medals. And hopefully, Trautwig learned his lesson.
This article was originally published on