Simone Biles, Aly Raisman & More Blast USA Gymnastics In Emotional Testimony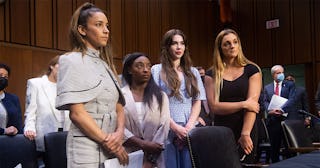 SAUL LOEB/Getty
The Senate heard powerful testimony from the gymnasts who were sexually abused by Larry Nassar
Betrayed. That's how four famed female gymnasts say they feel in the wake of a massive sex abuse scandal. Simone Biles, Aly Raisman, Maggie Nichols, and McKayla Maroney offered powerful testimony during a Senate hearing Wednesday, outlining the long series of failures by both the sport's governing body and federal investigators that led to unnecessary pain and trauma for so many.
Simone Biles cut straight to the chase in her opening statement, telling Senators that the reason she and so many other young gymnasts suffered at the hands of a serial abuser was simple: "USA Gymnastics (USAG) and the United States Olympic and Paralympic Committee (USOPC) — failed to do their jobs." She said the USAG and USOPC turned a blind eye to what was happening.
"I also blame an entire system that enabled and perpetrated his abuse. USA Gymnastics and the United States Olympic and Paralympic committee knew that I was abused by their official team doctor long before I was ever made aware of their knowledge."
"I don't want another young gymnast, Olympic athlete or any individual to experience the horror that I and hundreds of others have endured before, during and continuing to this day, in the wake of the Larry Nassar abuse," Biles said.
Biles and another gold-medal winner, McKayla Maroney, also criticized the FBI in their statements, alleging investigators dropped the ball. "There were certain FBI agents who chose to falsify what I said and conceal Nassar's crimes from the public, the media, other law enforcement agencies, and most importantly, other victims," Maroney explained.
She accused agents of moving too slowly, and even said they didn't even officially log her statement for nearly a year and a half after she first spoke out. "They betrayed me, they betrayed my trust, and they sat idly by, as dozens of girls and women continued to be molested by Larry Nassar."
Maroney's teammate Aly Raisman also expressed frustration with the investigation. "It disgusts me that we are still fighting for the most basic answers and accountability over six years later," she said. Raisman also said it took more than a year for the FBI to contact her even though she made multiple requests to be interviewed about Nassar's abuse.
Raisman, too, ultimately felt like the FBI just wanted to wrap things up. "I felt pressured by the FBI to consent to Nassar's plea deal. The agent diminished the significance of my abuse and made me feel my criminal case wasn't worth pursuing."
She also explained that she felt USA Gymnastics put money and power ahead of the safety of the girls and young women Nassar was preying upon. "Why are we left to guess why USAG and USOPC deliberately ignored reported abuse? Was it to protect the value of its sponsorships? The LA28 bid? Their own jobs? To avoid criminal liability?" As the girls reiterated over and over again in their testimony — there were so many missed opportunities for someone in a position of power to stop Nassar — and those chances were missed time and time again.
Maggie Nichols — a two-time national champ — says Nassar isn't the only one who deserves to be behind bars. "To-date, no one from the FBI, the USOPC or USAG has faced federal charges, other than Larry Nassar. For many hundreds of survivors of Larry Nassar, this hearing is one of our last opportunities to get justice. We ask that you do what is in your power to ensure those that engaged in wrongdoing are held accountable under the law."
Nassar will likely spend the rest of his life in jail for his crimes — and it remains to be seen whether anyone else will ever be punished. But in the meantime, healing and recovering from his abuse is an ongoing process for the hundreds of survivors.
"The scars of this horrific abuse continue to live with all of us. As the lone competitor in the recent Tokyo Games who was a survivor of this horror, I can assure you that the impacts of this man's abuse are not over or forgotten," Biles said.