People Can't Believe Simone Biles' BF Didn't Know Who She Was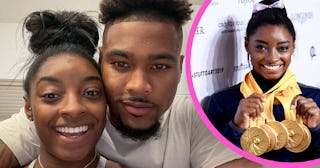 Jonathan Owens/Instagram and Laurence Griffiths/Getty
Simone Biles' boyfriend Jonathan Owens, a football player, claims he didn't know who she was when they met
Olympian and all-around GOAT Simone Biles has been in a relationship with NFL player Jonathan Owens for at least a year, but if you hear him talk about their love story, he says he didn't know she was the greatest of all time when they met, and you sure about that buddy?
On an episode of Biles' Facebook Watch docu-series, Simone vs Herself, she and Owens talk about their meet-cute, which is where Owens *claims* that he had no idea who Biles was when they met, which I find impossible to believe, but I'm going to give this man the benefit of the doubt.
"Her work ethic was really the first thing that caught my eye. I never really watched gymnastics before I first started talking to her," he shared. "When I met her, I honestly didn't know who she was. It was just kind of like, 'Oh, she's got a lot of followers. You know, she must be pretty good or something.'"
I don't watch ANY sports, including gymnastics, but I know who Simone Biles is. Thankfully, his friends snapped some sense into him. "That's how I would tell people, and they're like, 'Simone Biles?! You for real, the gymnast?!' And I'm like, 'Man, she's good like that?!' Like I didn't [know]."
Hah. "She's good like that?" My friend, your girlfriend has gymnastics stunts named after her because she's the only person on earth who can do them. She is so much more than "good."
The internet found this very hard to believe.
Some online wondered if maybe Mr. Owens, the football player, didn't understand just how powerful and talented gymnasts are which somehow explains how he wasn't aware of his partner's skill or place among the world's athletes.
This was proven onscreen earlier in their docuseries when the two did a rope-climbing race and naturally, the gymnast beat her boyfriend.
The good news is that Owens figured out that he's in a relationship with a once-in-a-generation athlete and showed her the reverence she deserves.
"The coolest thing for me is that I get to witness someone who's literally in the pinnacle of their sport… and it's motivating," he explained in the docuseries. "To see that and the impact that she has on people. We were walking past this group of girls and they were shaking, 'Oh my god, it's Simone!' This is kinda when I knew, 'Okay she's the real deal.'"
There we go.