The Trailer For A New Simone Biles Docuseries Is Here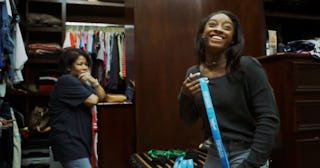 Facebook Watch
A new Facebook Watch series will give fans a behind-the-scenes look as Simone Biles gets ready for the Olympics
Simone Biles is seriously unstoppable right now. The world-famous gymnast just broke another record by winning her seventh U.S. national championship — making her, officially, the most decorated gymnast in American history. Now, she has her sights set on the pandemic-delayed Tokyo Olympics this summer. And as she prepares for the Olympic trials that will determine whether she has a spot on the U.S. team, her fans can watch it all in a new docuseries coming to Facebook Watch.
Simone vs. Herself will be a seven-part series that follows Biles as she prepares — physically, but also mentally — to compete in her second Olympic games. And the trailer for the series just dropped.
The trailer is getting us seriously excited to watch this. It opens on Biles, who is showing off a gold metal stamped with "2013 Antwerp" to the camera, and reminiscing about one of her first major competitions, long before she was a four-time Olympic gold medalist — before she was even a household name.
"I remember my coach telling me, 'You can't do anything wrong at this point. Go out there and make a name for yourself. You have nothing to lose.' And I was like, 'You know what, you're right, I am a nobody!'" Biles says, laughing.
Well, that didn't last long. Biles was only 16 that year in Antwerp, and she was crowned the all-around world champion. It shot her to stardom, and the rest, as we all know, is history.
In the trailer, Biles talks about her concerns about the Tokyo games, especially the fact that they were postponed at the last minute due to the COVID-19 pandemic. She wonders aloud if she'll still be on top of her game a year later than planned.
"I never imagined the Olympics would be postponed," she says, as footage of her practicing plays. "Having to come back, am I going to be just as good?" she asks. "Can I do it again?"
But this docuseries is obviously trying to show a side of the superstar that we haven't seen before. There's footage of her as a young child at some of her first gymnastics competitions. It also shows her cuddling with her dog and playing with friends in a pool. It's easy to think of Biles as just the Olympic star we know from seeing her compete, but this series is clearly going to be a reminder that she's much more than her medals.
"Outside of the score, you try to be, like, human," she says, rolling her eyes and grinning at the camera.
Simone vs. Herself will premiere on Facebook Watch on June 15. It will be available for anyone to watch on the Versus on Watch page.