Simone Biles Wins A 7th National Championship & Sets Another Record
by Christina Marfice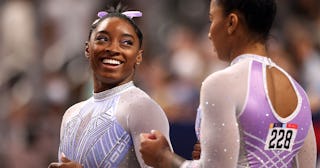 Jamie Squire/Getty
Can anything stop Simone Biles? It doesn't seem like it
Against all odds, it seems like the Tokyo Olympics will move forward this summer. And so, ahead of the Games, all the world's most famous athletes are finishing their qualifying events, proving they deserve their spots in the biggest global sporting event in the world. That includes Simone Biles, who just finished the U.S. National Championship gymnastics event, where she, naturally, broke some more records, because she is unstoppable.
Biles won the national championship, which is her seventh total title in her career. That puts her officially ahead of six-time winner Clara Schroth-Lomady, and makes her the new most decorated gymnast in U.S. history.
What's even more impressive is that Biles won the National Championship by almost five whole points, so she didn't just win — she dominated. In second place was 2019 Worlds team gold medalist Sunisa Lee, and in third was 2018 Pacific Rim Championships winner Jordan Chiles. Jade Carey, who has already qualified for a spot in the upcoming Olympics, came in sixth.
Biles won the national title in the floor, vault, and balance beam events. To the surprise of spectators, she didn't do her iconic Yurchenko double pike vault that she debuted just a few weeks ago (as the first female gymnast to successfully complete it in a competition, no less). However, her routines were still so difficult and high-scoring, she didn't need that vault to win the championship. And during her floor routine, she did give us one of her two-flip, three-twist moves that has been named (what else?) The Biles.
"It's really emotional, especially going into my second time doing an Olympic run," Biles told reporters after her historic win. "It's really crazy, and I appreciate everyone that's come out to watch and support us, especially after the year we've had."
The next stop for Biles after this is the official Olympic trials, where the top two all-around competitors will earn a spot in the Games this summer. We imagine she'll be pulling out all the stops there, and based on the season she's been having so far, there's not much doubt in anyone's minds that Biles is headed to her second Olympic Games. As our country's most celebrated gymnast of all time, there's no one better to represent the U.S. team, and we know she'll compete just as hard as she did last Olympics and make us all proud.