OMG: Simone Biles Stuns With Epic Olympic Trials Floor Routine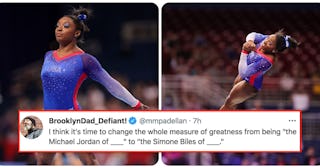 Carmen Mandato/Getty Images
Simone Biles' epic floor routine at Day 1 of the Tokyo Olympic trials goes viral on Twitter
Simone Biles proved yet again why she's the greatest of all time, with a Tokyo Olympic trials floor routine that had jaws dropping. After an electric floor routine that promptly went viral online, Simone Biles took the lead with the highest women's gymnastics score for her floor routine, vault, and balance beam at the U.S. Olympic Trials on Friday, June 25, 2021.
"I was super excited going into this one," Biles told reporters after her big night (via The AP). "I knew exactly what to expect."
Twitter was, not surprisingly, besides itself. "I think she may just be the best athlete period," wrote one fan. "This is the definition of Black excellence. Her poise and precision is on point," said another.
"A standing ovation after Simone Biles' floor routine," wrote one ESPN sports reporter, who was in the audience. "My jaw was on the floor. It's hard to tell on TV just how much height she gets on these passes but my gosh it's impressive."
"Taking this time to recognize the absolute greatness of Simone Biles, the most amazing gymnast I've seen in my lifetime. Holy shit," wrote another twitter fan after watching the performance.
During her routine, she did her signature move: The Biles (a double-double dismount).
The official Twitter account for the Olympics shared the move online, in slow-motion, to truly highlight the supernatural feats that she consistently pulls off.
They call her the GOAT for a reason, and one Twitter user summed it up perfectly when he wrote, "I think it's time to change the whole measure of greatness from being 'the Michael Jordan of ____' to 'the Simone Biles of ____.' She is INCREDIBLE."
With last year's Olympics postponed, it has been five years since Biles last competed in the Games and the distinction is not lost of the champion.
"I feel like I'm very…like I'm a lot more emotional this time around, which is so crazy," Biles shared on Friday night. "Even walking out of there tearing up and crying. The girls are like, 'Are you OK?' I'm fine. It's just like, I can't believe the time is here. It's been five years and I'm grateful."
"Thanks for all the love, support and encouraging messages," Biles shared online after seeing the response that her floor routine got on Twitter. "You guys are the best. I truly appreciate it! LOVE YALL."
Next stop, Tokyo!