Simone Biles Says She's Still Scared To Do Gymnastics In Emotional Interview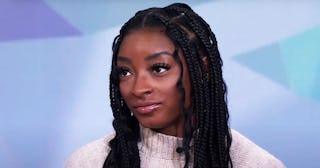 TODAY/Youtube
"I don't think people understand the magnitude of what I go through," Biles said in an emotional interview
Going into the Tokyo Olympics this summer, all eyes were on Simone Biles. Already anointed "the GOAT" by legions of fans, the gymnast had a shot to bag several more gold medals — until she stunned the world by announcing she was pulling out of several events to focus on her mental health.
Biles developed a devastating case of "the twisties" — a phenomenon experienced by gymnasts when they can't maintain awareness of their bodies as they fly through their gravity-defying routines. Now, months after the Games ended (with another silver and a bronze earned by Biles, despite her struggles), the 24-year-old says she's "still scared" to practice the sport that's dominated so much of her life.
Appearing on the TODAY show, Biles got emotional talking about her love of the sport and how difficult it's been to get her mind and body back in sync. She said she's still dealing with the twisties in her nationwide Gold Over America Tour.
"I don't twist. I do… my signature moves on the floor, but that's never affected me. Everything else just, like, weighs so heavy, and I watch the girls do it and it's just, it's not the same," she said, adding that it's difficult to watch other gymnasts do the moves that once came so naturally to her.
"To do something that I've done forever and just not be able to do it because of everything I've gone through is really crazy because I love this sport so much," Biles said through tears. "But it's hard. I'm sorry. And I don't think people understand the magnitude of what I go through."
Many speculated whether the spotlight was just too bright in Tokyo, or whether the pressure to follow up her stunning run at the 2016 Games was just too great. But Biles drew a straight line between the abuse she suffered at the hands of former USA Gymnastics team doctor Larry Nassar, who was convicted of abusing hundreds of young gymnasts, and the mental health struggles she experienced in Tokyo.
"My body and my mind allowed me to suppress all of that for so many years, for as long as it could take, and as soon as we stepped onto the Olympic scene, it just didn't it couldn't do it anymore and it cracked," Biles explained. And selflessly, Biles said that if what she went through had to happen to anyone on the team, she was glad it was her. "I know I'm strong enough and I can get back on my feet, and I'm gonna be OK with the right help."
Biles put her mental health first — despite knowing she'd inevitably be trolled by critics — and now she's looking to help others do the same. The gymnast is partnering up with the health app Cerebral to raise mental health awareness and connect people in need to services like counseling and anxiety management.
The app is just one of many techniques Biles said she's using to nurture her own mental health in the wake of Tokyo — she said daily walks, social media breaks, and even a little retail therapy have all been helpful.
Biles's legacy as one of the greatest gymnasts of all time is secure — and now, with her openness and her advocacy — being a champion for mental health just might be her next act.