Simone Biles Opens Up About Sexual Abuse During Powerful Interview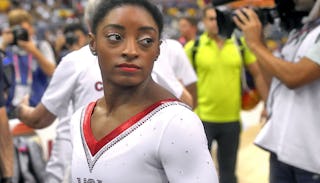 Francois Nel/Getty Images
Simone Biles got candid about depression and sexual abuse
Olympic gold medalist Simone Biles gave a powerful, painful interview about the emotional turmoil she went through after being sexual abused by former team doctor Larry Nassar. During a recent conversation with Priyanka Chopra, she opened up about the depression and denial she dealt with following the traumatic experience.
Chopra sat down with Biles for her new YouTube series If I Could Tell You Just One Thing, which features conversations with inspirational women. The 22-year-old gymnast got very candid and personal with Chopra about Larry Nassar, the team doctor who sexually abused more than 160 women. She explained that it took awhile to come to the realization that she herself had been abused.
"There was a time I asked my friend and I called her and I asked her the definition of 'sexually abused,' because some of my other friends, they had had it worse than me," Biles explained. "She said, 'If he did that and that, you've been sexually abused.' I kind of brushed it off, and I was like, 'No, I'm am not willing to put that out there for the world to see. They're not going to see Simone the gymnast. They're going to see Simone as a sexual abuse survivor.'"
The gymnast decided to "bury" the experience and fell into depression. "I like, never left my room. I was sleeping all the time and I told one of my lawyers, I said, 'I sleep all the time because it's the closest thing to death,'" Biles recalled.
Last January, she decided that she was ready to add her name to the list of the women Nassar had abused.
"Most of you know me as a happy, giggly, and energetic girl. But lately … I've felt a bit broken and the more I try to shut off the voice in my head the louder it screams. I am not afraid to tell my story anymore," she wrote in a moving statement on Twitter. "I too am one of the many survivors that was sexually abused by Larry Nassar."
"For too long I have asked myself, 'Was I too naive? Was it my fault?' I now know the answers to those questions. No. No, it was not my fault. No, I will not and should not carry the guilt that belongs to Larry Nassar, USAG [USA Gymnastics], and others."
Biles told Chopra that sharing her story with the world definitely wasn't easy but she hoped that speaking out would help other young girls. She said that the most important lesson she learned from this whole awful ordeal was the power of risk-taking.
"I took a lot of risks and I did things that terrified me," Biles said. "It made me realize who I was as a person."
If you or anyone you know would like to speak to a trained professional about sexual abuse, RAINN has a free 24/7 hotline: 800.656.HOPE.
This article was originally published on