Simone Biles Shares Story Of Sexual Assault By US Olympic Team Doctor
by Megan Zander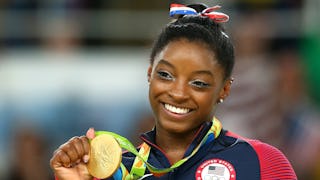 Image via Getty Images Sport/Alex Livesey
Simone Biles accuses former USA Gymnastics doctor Larry Nassar of sexual abuse
Olympic gold medalist Simone Biles has added her name to the sickeningly long list of women who've come forward to accuse former US Gymnastics doctor Larry Nassar of sexual abuse.
Biles issued her brave statement via Twitter, one day before the start of Nassar's sentencing hearing for seven counts of criminal sexual conduct. (He's already been sentenced to 60 years for possession of child pornography and awaits sentencing for three counts of first degree criminal sexual conduct with children under 16.)
"Most of you know me as a happy, giggly, and energetic girl," she started her letter. "But lately … I've felt a bit broken and the more I try to shut off the voice in my head the louder it screams. I am not afraid to tell my story anymore."
"I too am one of the many survivors that was sexually abused by Larry Nassar," she continues. "Please believe me when I say it was a lot harder to first speak those words out loud than it is now to put them on paper. There are many reasons that I have been reluctant to share my story, but I know now it is not my fault."
She described the abuse, and notes the particular brand of awful that is being abused by someone in a position of power. "It is not normal to receive any type of treatment from a trusted team physician and refer to it horrifyingly as the 'special' treatment," she writes. "This behavior is completely unacceptable, disgusting, and abusive, especially coming from someone whom I was told to trust."
In sharing her story, Biles joins 2016 Olympics teammates Aly Raisman, McKayla Maroney, Gabby Douglas and over 140 other women who've come forward saying they suffered abuse for years at the hands of Nassar.
Quoting an inner monologue that will ring familiar to many victims, Biles says she spent time blaming herself for the abuse before realizing she did absolutely nothing wrong. "For too long I have asked myself, 'Was I too naive? Was it my fault?' I now know the answers to those questions. No. No, it was not my fault. No, I will not and should not carry the guilt that belongs to Larry Nassar, USAG [USA Gymnastics], and others."
Her letter was met with plenty of love and support.
Some made the excellent point that abuse victims are entitled to process what happened to them their own way, no explanations necessary. Public statement or not, every abuse survivor is strong as hell.
https://twitter.com/jetpack/status/953015974692876290
Aly Raisman wasted no time showing solidarity for her teammate and friend.
Biles included the #MeToo hashtag with her letter, showing support and solidarity for men and women around the world who've come forward with their own tales of sexual abuse and assault. She said hearing other's similar experiences helped her realize that she's not responsible for what happened to her.
"After hearing the brave stories of my friends and other survivors, I know that this horrific experience does not define me. I am much more than this," she writes. "I am unique, smart, talented, motivated, and passionate. I have promised myself that my story will be much greater than this and I promise all of you that I will never give up."
Nassar faces anywhere from 25 years to life in prison, which, under the terms of his plea agreement, will be served after his existing 60 year sentence. At least 88 victims are expected to read statements during his upcoming sentencing hearing, explaining how his violation of their trust as their physician has forever impacted their lives.
Whiles Biles is no doubt a survivor, she's still committed to bringing about change to ensure the safety of future young gymnasts. "We need to know why this was able to take place for so long and to so many of us," she writes. "We need to make sure something like this never happens again."