Simone Biles Shares Moment She Told Her Mom She Was Sexually Abused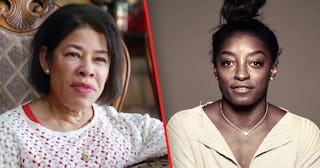 Facbook
Simone Biles recalled the heartbreaking moment she opened up to her mom about being sexually abused
Simone Biles may only be 24 years old, but there are plenty of fans ready to dub the extraordinary gymnast the GOAT: the greatest of all time. And with multiple Olympic gold medals and World Championships to her name, it's hard to argue the point. But there's another title that Biles takes very seriously, however horribly she came by it: sexual abuse survivor. Biles was among the hundreds of victims of former Olympic doctor Larry Nassar, who preyed on young gymnasts at an Olympic training facility in Texas for years before finally being caught.
"All those years, nobody ever told us what like, sexual abuse was," Biles said of her time at Karolyi Ranch."So we didn't really feel like we were going through it, or we were victims." She revisited the sad details on an episode of her Facebook Watch show Simone vs. Herself, and how she eventually worked up the courage to tell her mother what happened.
Biles explained that because she and her fellow gymnasts didn't go to typical schools because they trained so much, they didn't have many people to ask or compare experiences with. "I remember asking one of my friends, 'Hey, if I've been touched here, have I been sexually assaulted?' And I thought I was being dramatic," she said. But that friend replied, "Absolutely."
But even then, Biles said she couldn't quite accept what had happened to her. "In that instance, I felt like I was one of the luckier ones… because I didn't get it as bad as some of the girls I knew."
Her mother, Nellie Biles, chalked that up to plain and simple denial. She said just like the rest of the world, she first heard about the horrific situation on the news. Nellie said her daughter would get very angry whenever she attempted to ask whether she too had been abused by Nassar, insisting repeatedly that "nothing happened."
But Biles couldn't keep up that facade forever, and it finally cracked one day while she was driving. "I just remember breaking down and calling my mom. She told me to pull over. She was like, 'Can you drive?' because I was crying so hard."
Nellie said she sensed immediately what was going on. "She didn't say anything, she just cried, and we just cried together because I knew what it was she wanted to talk about. She didn't have to say anything."
Biles shared that after finally releasing the traumatic memories she'd tried to keep buried, she started sleeping all the time and became very depressed. "Sleeping was basically better than, like, offing myself," she said. "It was my way to escape reality. And sleeping was the closest thing to death for me at that point so I just slept all the time."
When a gymnast gets hurt, Biles said they would typically expect an injury to heal in four to six weeks. But for what she and her fellow gymnasts suffered — there was no roadmap for recovery. "There's actually no time limit or healing time for it, so you just take it day by day."
As she gears up for Tokyo, Biles said that recovery is still in progress. But as she wrote back in 2018, when she first revealed the trauma she'd endured, she refuses to let the horrific experience define her. "I won't let one man, and the others that enabled him, to steal my love and joy," she said at the time. Biles' story of Olympic glory is still being written, but there's no doubt she's already building an inspiring legacy — for young girls, for gymnasts, and perhaps most importantly, for other survivors.